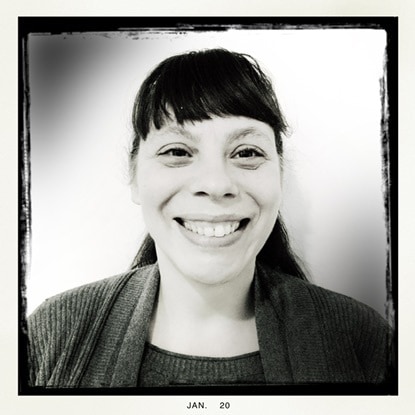 Hello,
my name is Alessandra and I come from Venice, Italy.
Since a few years my partner and I decided to change our lifestyle and leave the door open for new experiences and possibilities by following the path of instinct and curiosity.
When I read the profile of the association on the
workaway.info
website, I had no doubts: I wanted to come to Landsberg and be part of this group that does super interesting activities! And I was not disappointed. The association is called "dieKunstBauStelle" and is managed by Wolfgang Hauck, an inviting, versatile and socially committed person, full of interests and ideas, who not only thinks them, but also implements them.
When I arrived in November 2019, Wolfgang and the two other volunteers, Ata (Istanbul) and Gonzalo (Argentina), were involved in the "Bridge Project", an educational project with schools that aimed to encourage critical thinking in children and at the same time teach them new skills. All this was done using fun methods and at the level of their abilities. The bridge project was chosen because the city of Landsberg approved the construction of a new bridge over the Lech River not out of necessity, but to promote the economy of the new shopping centre that would be located directly in front of the bridge.
It was very nice and fun to work with these children, who tried to meet us and talk to us in English as much as possible. We brainstormed and drew interventions in the classroom to free the children's minds from any preconceptions, but then the work materialized with the help of experts in the real economic and constructional possibility of a bridge, also defining the criteria for choosing the best position for this bridge, such as common use, feasibility and environmental sustainability.
But, a not insignificant detail, the projects also involved the local community, and in this particular case the young people, like small radio journalists, also worked between the square and the streets of Landsberg, interviewing the available people with some, sometimes provocative, questions related to the bridge: Do you think Landsberg needs a new bridge? Do you know how much it will cost? Do you agree with the choice of location? Would you be willing to pay a toll to cross the river?
The young people were equipped with proper equipment and prepared for interviews by Susanne, an experienced radio journalist. I think that the combination of all these elements can offer adolescents different perspectives for reading a topic and the opportunity to understand how important it is to deal with different people. As I come from humanistic and pedagogical studies, I greatly appreciated the way in which social skills such as dialogue, comparison, research and exchange can be promoted.
Just before Christmas, we set up an exhibition, open to the public free of charge, with all the projects that the association has carried out in recent years. It was fun to set up an exhibition for a few days! We designed a tour, put up the posters, photos, descriptions, lights, videos and speakers to listen to the interviews. I learned how to use a few tricks to transform an empty room into an attractive and interesting place for art. In the end it was very exciting to see the result and that she was praised by everyone.
Besides these educational projects, I helped the association with actions related to social media, especially with the selection of photos used in the diagrams. I was happy to do this, because during the selection work I was able to see the different performances that the theatre has made with adults and children. I saw the construction of the stilts, the creation of the clothes, the tests in the gym, the preparation before the performance, the theatre workshops with the refugees. I was so impressed by this work that after this first experience in the office I already booked the next session with the theatre training!
Thank you for everything Wolfgang, for your availability, your dinners with friends, sharing recipes, sharing teams, your trust and energy.
See you soon!
Alessandra
January 2020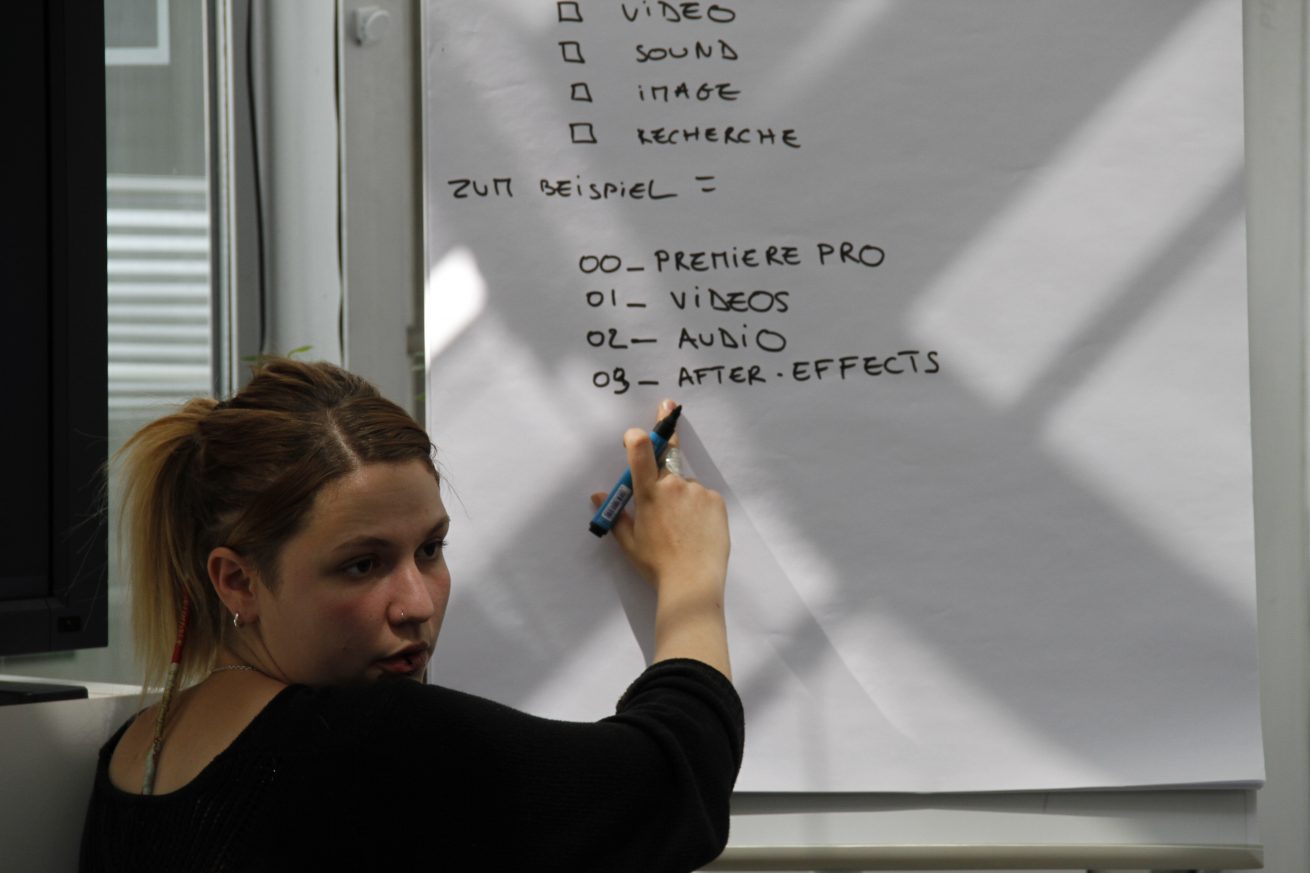 I'm Rachel, I come from Lyon (France) and I'm a young editor who wants to discover another countries, another cultures. I find inspiration in my work through travels and experiences, but first and foremost, through human bonding.
I rely on art and share several projects with different associations. As I feel very much concerned about social inequalities, I choose to fight it by the intermediate of Cinema; but also any other form of arts.
And then I decided to join dieKunstBauStelle for 3 weeks.
I was in charge of a video workshop with refugees and german students. I Teached them the basics of editing and post-production and some rules of cinema analysis . We create short videos thogether and also shot once.
I felt like a fish in water!
Wolfgang Hauck trust me and so we suceed to create a great workshop, create a beautiful and original video.
I've really loved to participate to a such project, I was not only a technican; I was really involved in the whole organization.
We've think, we've created, we'changed our plans, we've build new ones, we didn't give up.
Anyway, there's just nothing you cannot do with Wolfgang and dieKunstBauStelle.
It's an amazing structure I discovered and which I'd love to work again.
Rachel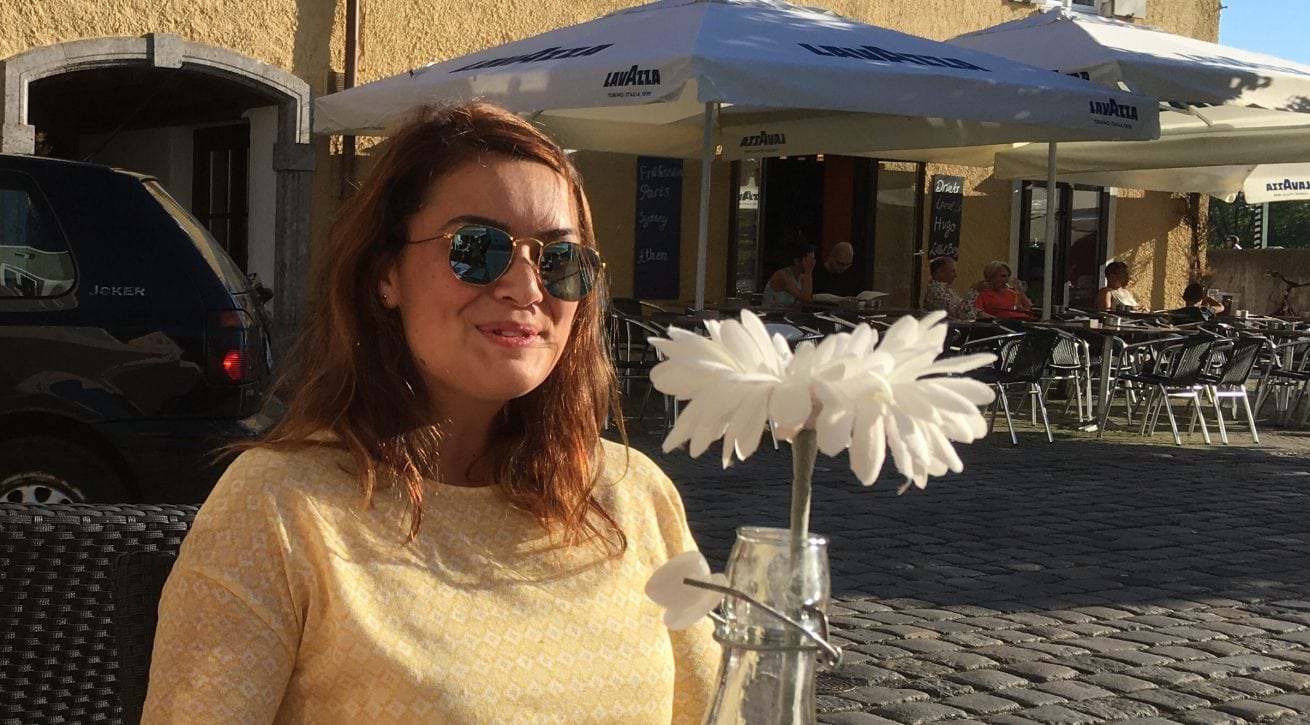 I am Christine from Northern Ireland. I have lived in Edinburgh for the last 14 years, a city known for arts and culture as a result of the Fringe Festival which brings artists and performers from every corner of the globe.
In these changing times of Brexit and talk of borders and walls on the world stage I decided that there was no better moment to travel the length and breadth of Europe… in a campervan, with my dog!
My plan is to visit 12 counties in 12 months and raise money for SOS Children's Villages, a charity which supports the most vulnerable, and campaigns for children's rights globally.
Workaway enables me to discover places and work with people I would otherwise never cross paths with, giving an insight into lifestyles never considered before.
Having just finished a project in Austria working on a dairy farm I was lucky enough to be accepted at dieKunstBauStelle.
The current project was a video workshop bringing together refugees and students from the local college.
I was able to learn and socialise with the group and another volunteer, Rachel, from France – "das was wunderbar".
Translating descriptions into English for the organisations website was the role I was tasked with.
Having no former experience in this field, progress was slow to begin with.
Through the process of learning about each former and ongoing project I was able to understand the broad reach and impact this work can have. I am inspired!
Theodore Roosevelt once said, "Do what you can, with what you have, where you are".
I now realise the scope and medium of doing good can be as varied as one's imagination.
I thank you Wolfgang Hauck and Karla Schönebeck.
Christine