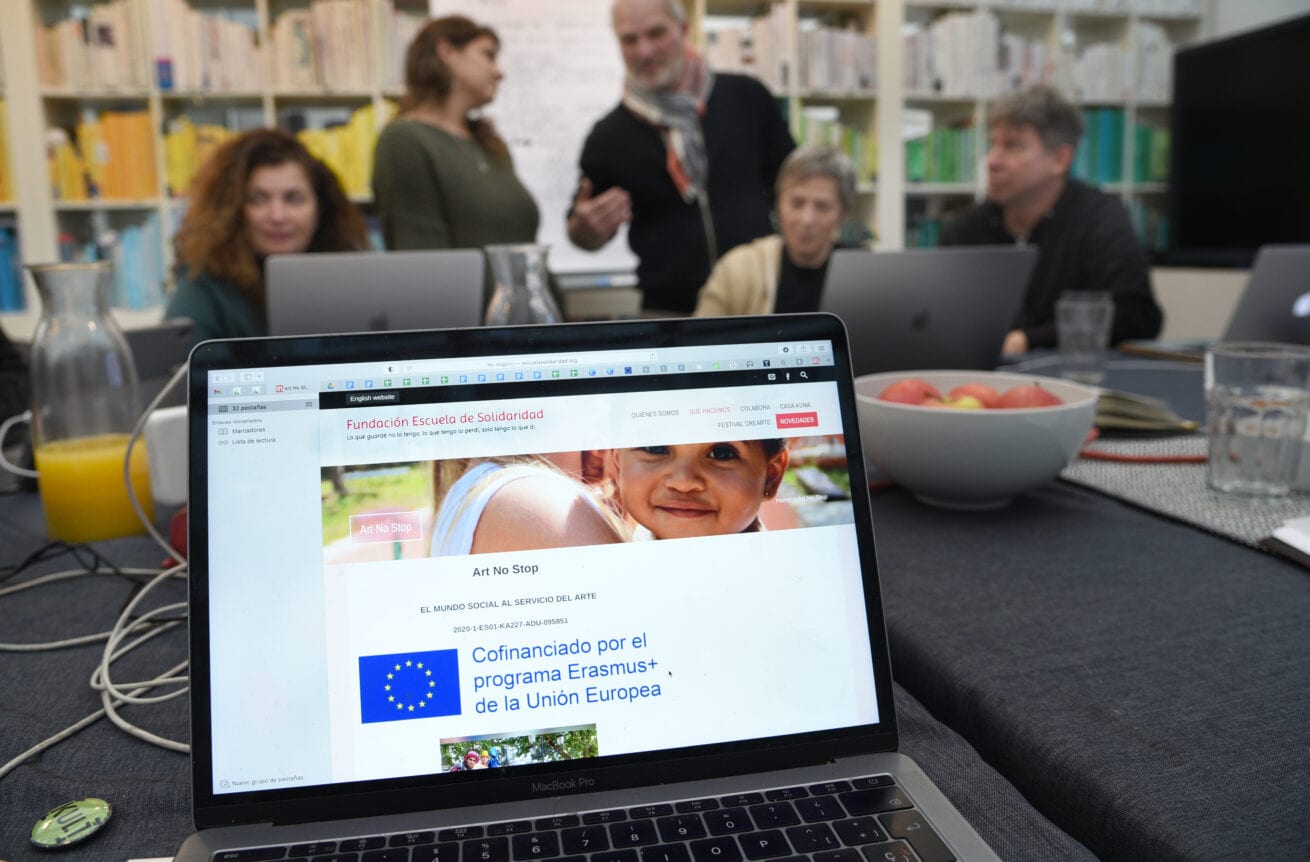 A European Erasmus project combines art and social work
Landsberg: The European Union supports a socio-cultural cooperation project in which the association dieKunstBauStelle takes over the realization of the digital design.
The qualification and experience of the partners from international socio-cultural work convinced the EU Commission, which is providing 200,000 euros for this purpose.
For the current working session, eight artists, social workers, and heads of social organizations came to Landsberg for four days in February.
Participants in the international meeting in Landsberg were the heads of a cultural and social center in Brindisi (Italy), an integration center for refugees and cultural center in Granada (Spain), a street art association in Amsterdam (Netherlands), and the socio-cultural association dieKunstBauStelle from Landsberg, which was the host.
The other locations of the funded EU project "Art No Stop" are Spain, Italy, and the Netherlands. Working sessions will be held there to pool the experience of sociocultural projects in a handbook, training courses, and an online platform.
Photo: Conny Kurz
Picture 1: from left to right: Dora Fanelli (SP), Gabrielle Cagnazzo (IT), Ankie Til (NL), Ed Santman (NL), Ayelen Bursztyn (SP), Sylvia Paradiso (IT), Wolfgang Hauck (DE)

¡Vamos a Granada!
Granada is another goal of the international projects of the association dieKunstBaustelle.
This time the journey goes in the year 2020/2021 in the capital of the province Granda in Andalusia.

To this end, the Landsberg-based cultural association dieKunstBauStelle is cooperating with the organisation Fundación Escuela de Solidaridad in Granada.
The workshops, training courses and job shadowing will take place there.
16 participants from Europe will be invited to participate in order to further qualify themselves professionally.
The title of the project:
ART – AWARENESS – ACTION
Art and Performance as Methods of Social Intervention and Awareness Raising
The date of implementation is still flexible and will be able to adapt to the travel possibilities.
On 18.5.2020 the funding of the project was approved by the European Union and can now start. It is one of the "K104 projects" of the ERASMUS+ program, an internal name for projects that serve the professional qualification of adult education staff in Europe.

The project includes further training courses, hospitations and will take place with 16 participants.
It also includes the use of the platform EPALE (E-Platform for Adult Education in Europe) and the Erasmus+ project results platform.
The programme comprises the following sections:
TRAINING COURSES
Training Course 1: ACTIONS OF SENSITISATION AND CITIZENS' PARTICIPATION (1st quarter 2021)
Training Course 2: GENDERSENSIVE INTERCULTURAL WORK (3rd quarter 2021)
TEACHING ASSIGNMENTS
Teaching Assignment 1: SOCIAL INTERVENTION WITH STELZEN (1st quarter 2021)
Teaching Assignment 2: STELZENBAU UND KOSTÜMDESIGN (2nd quarter 2021)
Teaching Assignment 3: STAGE DESIGN (4th quarter 2021)
JOB SHADOWING
Job Shadowing 1 (May 2021)
Job Shadowing 2 (November 2021) Participation in the "Marcha contra la violencia de género"
The application procedure for participation is currently being prepared.
Fundación Escuela de Solidaridad
Facebook: https://www.facebook.com/escuelasolidaridad
Youtube: https://www.youtube.com/channel/UC2h6J90cHk7tKrfzlEUwIpw
Instagram: