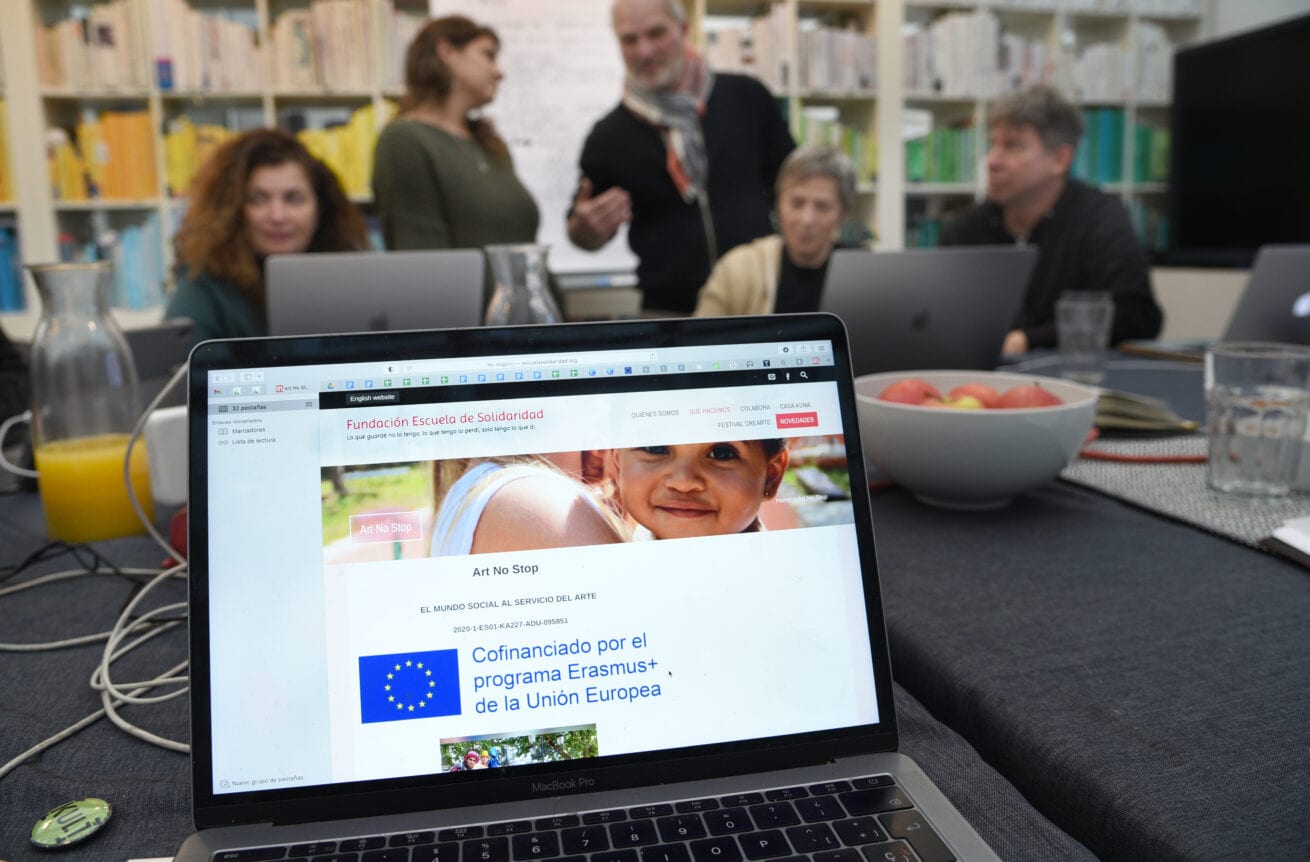 A European Erasmus project combines art and social work
Landsberg: The European Union supports a socio-cultural cooperation project in which the association dieKunstBauStelle takes over the realization of the digital design.
The qualification and experience of the partners from international socio-cultural work convinced the EU Commission, which is providing 200,000 euros for this purpose.
For the current working session, eight artists, social workers, and heads of social organizations came to Landsberg for four days in February.
Participants in the international meeting in Landsberg were the heads of a cultural and social center in Brindisi (Italy), an integration center for refugees and cultural center in Granada (Spain), a street art association in Amsterdam (Netherlands), and the socio-cultural association dieKunstBauStelle from Landsberg, which was the host.
The other locations of the funded EU project "Art No Stop" are Spain, Italy, and the Netherlands. Working sessions will be held there to pool the experience of sociocultural projects in a handbook, training courses, and an online platform.
Photo: Conny Kurz
Picture 1: from left to right: Dora Fanelli (SP), Gabrielle Cagnazzo (IT), Ankie Til (NL), Ed Santman (NL), Ayelen Bursztyn (SP), Sylvia Paradiso (IT), Wolfgang Hauck (DE)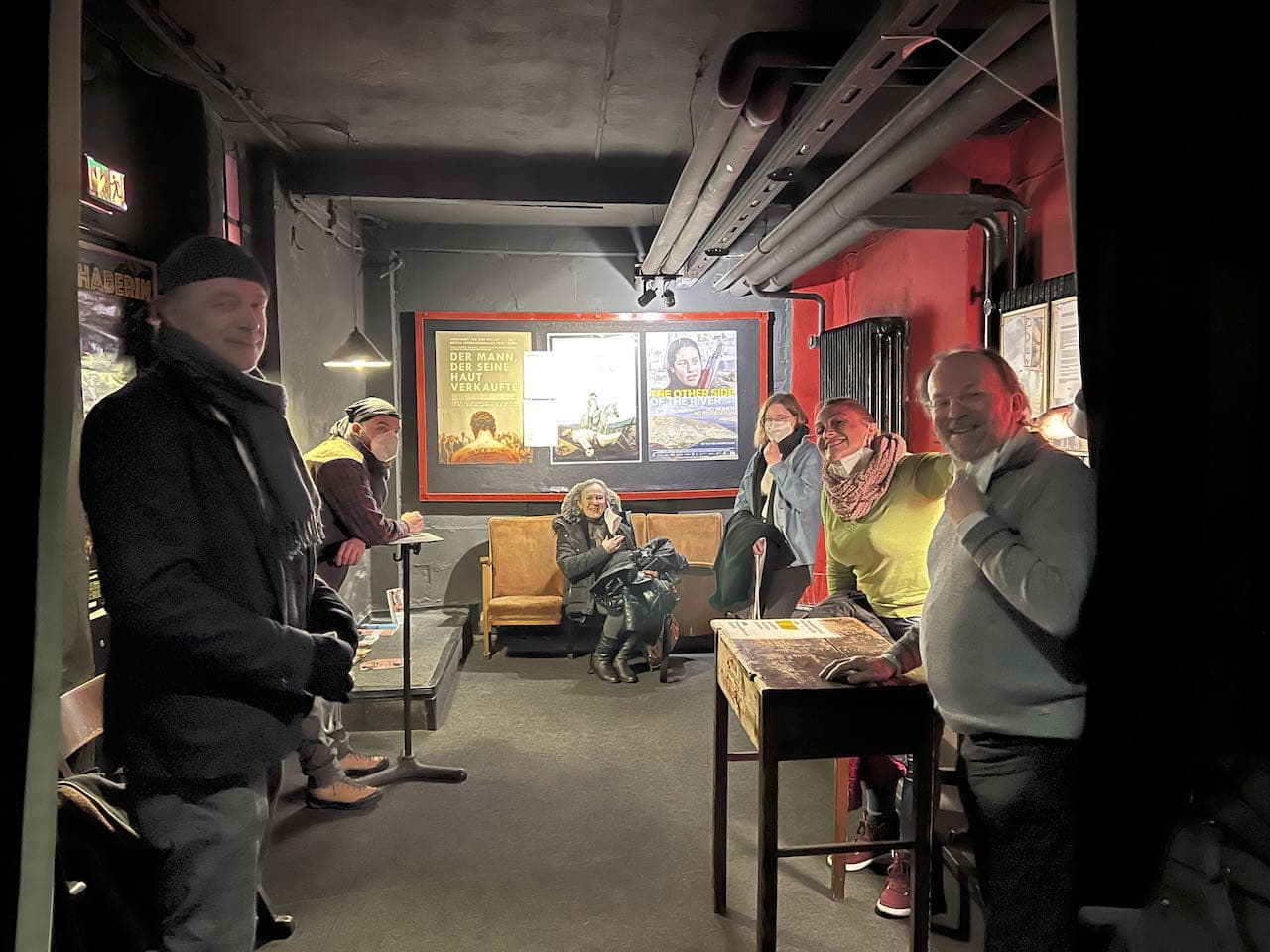 Das Filmprojekt ist auf dem Weg
VORSCHAU
Am Freitag, 29. Januar 2022,  sah ein Teil der Mitwirkenden die aktuelle Schnittfassung von Robert Fischer im Werkstattkino in München.
Bereits vor drei Wochen konnten die Schauspieler und Schauspielerinnen in Wasserburg und Landsberg eine Eindruck vom Film bekommen.
Wegen den geltenden Coronaregelungen für Kinos wurde die Vorführungen auf verschiedene Termine aufgeteilt.
ERSTE EINDRÜCKE
Georg Karger, musikalischer Leiter, sah die Filmfassung bereits zum zweiten Mal und ist begeistert:
"Lieber Robert, ich habe am letzten Freitag tatsächlich geglaubt, einen über weite Strecken neuen Schnitt zu sehen. (Anmerkung Robert Fischer. Was es nicht war.) … nimm es gerne als Kompliment.

Anscheinend funktioniert die von Dir geschaffene Polyphonie der Erzählstränge so, dass es auch bei mehrmaligem Sehen immer wieder neues zu entdecken gibt. Die Vorstellung der Gewerke, die Reflexionen über Landsberg und die NS-Zeit, Berthold Brecht und sein Stück, die Interviews …"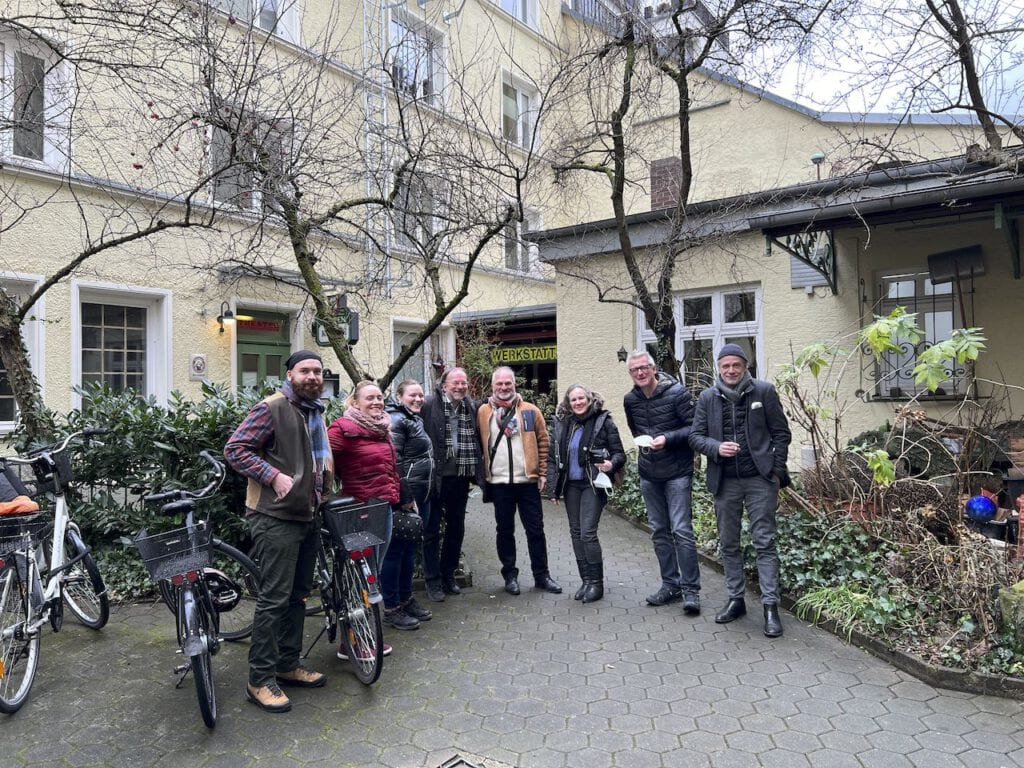 Ein Teil des Produktionsteams im Werkstattkino München:
V.l.n.r: Gonzalo Orce,  Nina Selma Frank, Mindy Frank, Robert Fischer, Wolfgang Hauck, Nina Frank, Georg Karger, Carsten Klemm
Foto Katharina Neuhaus
Aktuell arbeitet der Filmemacher Robert Fischer an der Farbkorrektur und Tonmischung.
"Nun laufen die Planungen für die Premiere und alles andere, daß zu einer solchen Filmproduktion gehört", so Wolfgang Hauck.
PREMIERE
Die Premiere ist für Juni/Juli 2022 .geplant.
Wer einen ersten Eindruck haben will, kann den Teaser von Robert Fischer sehen, der vor zwei Jahren entstanden ist:
TEASER: Video Vimeo
#arturoui #dokufilarturo #bertholdbrecht #diestelzer #dieKunstBauStelle #theaterwasserburg