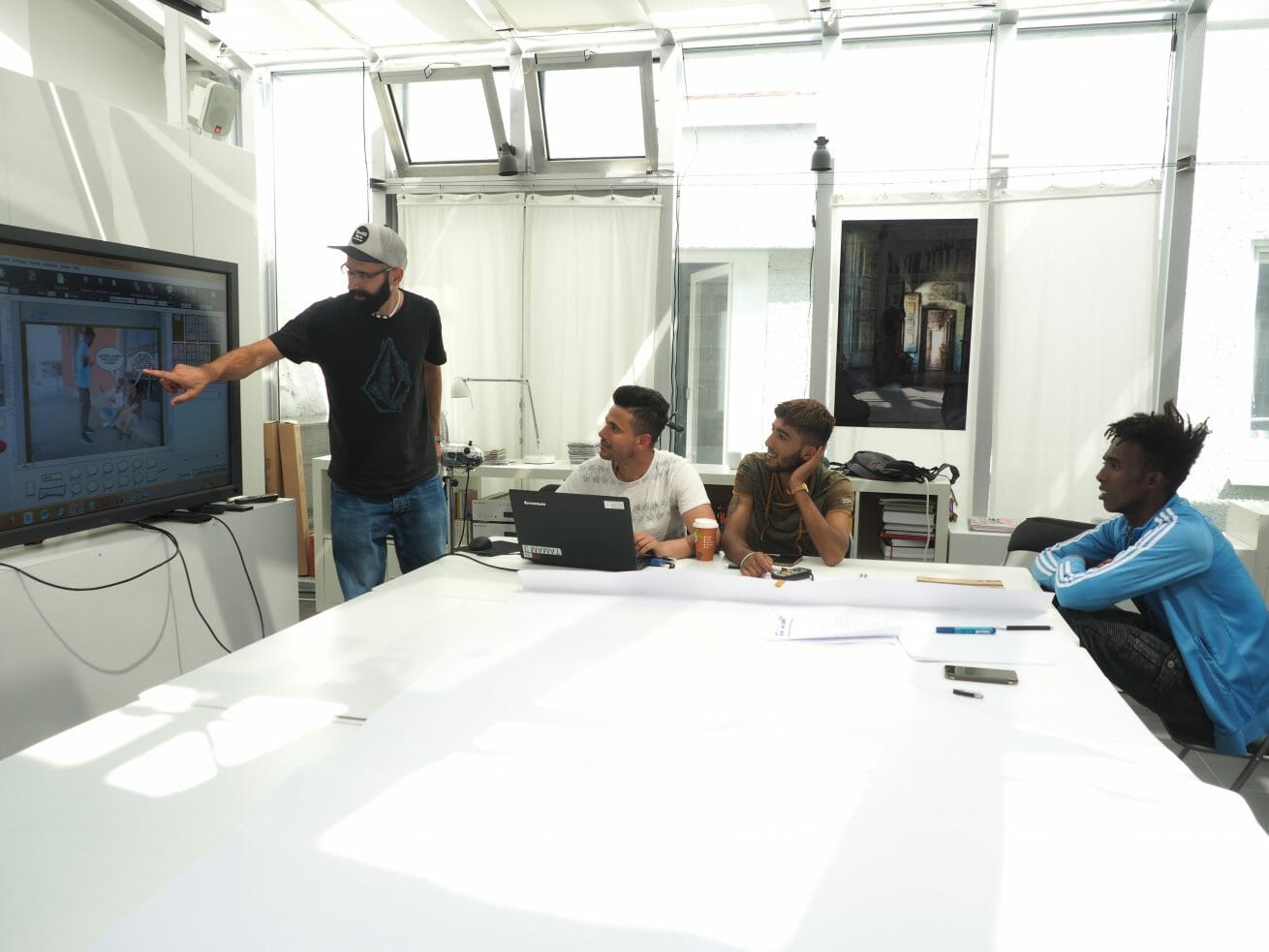 Our media project TAMAM with refugees is going into the next rounds. The principle is the same: young adult refugees between the ages of 18 and 26 from Syria, Somalia, Eritrea and Iraq are being introduced to media technology. Once again, they receive excellent support from committed students of the IKG, who provide them with important mentoring assistance.
This time, we want to delve deeper into the creation of photo comics. This means inventing stories, taking photos, creating storyboards, importing pictures into the comic program, and thinking through texts for the comics.
The first topic that we wanted to tackle together is: Food / Nutrition. How did we come to this? Because we cooked and ate together internationally at the start of the project. Hence the idea to create a comic about hunger and food.
Spectacular ideas have come to light. The one that was eventually carried out: an adventurous story of a group of young people of various nationalities, who – unfortunately with little change in their pockets – go in search of delicious food, if possible in a restaurant. But with too little money that can be quite frustrating.
The solution: the Landsberger "Foodomat". A cigarette-like looking box from which you can actually draw delicious dishes such as pizza, pork roast or pasta for money. But how is that supposed to work? What do the foods look like? A pizza in the form of a folded piece of paper, on which a pizza is printed, from a pack of cigarettes? That can not be edible?
Do not give up is the motto. The fact that the group of young people is successful and that in the end a real pizza is actually on the plate – this is the result of the resulting photo comic. Mystical, spooky, a bit weird … you can be curious!