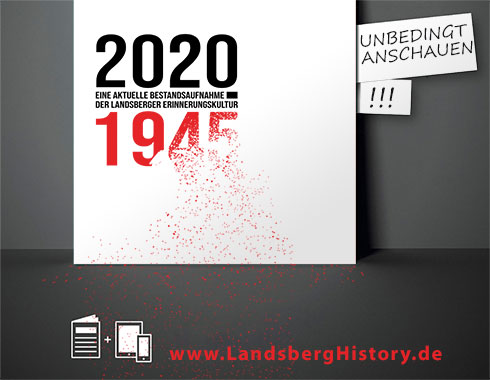 Review Projects Remembrance Culture in Landsberg am Lech
The realisation of remembrance culture, the forms, the carriers, actors and formats is very diverse, especially in Landsberg am Lech, and has sometimes been understood in competing or controversial attitudes. This is also due to this subject area, which is itself an expression of contemporary history and is subject to change. But there were and are also very cooperative and constructive ways of dealing with it.
Through the cultural and artistic projects, we have become more and more involved with the contemporary history of the city, especially through the interests of the young people in our projects.
Although for us other topics would be in the foreground of the work of cultural education, we see how central this subject area has been in the past. A great deal of voluntary work has been invested in these projects, always with a participatory and socio-cultural approach and always professionally accompanied.
OVERVIEW OF PROJECTS IN MODERN CONTEMPORARY HISTORY
The following projects were carried out on modern contemporary history:
2013
PROJECT: dieKunstBauStelle
Exhibition, Youth Project: dieKunstBauStelle
The last part of the exhibition in public space was dedicated to recent contemporary history.
INFO: https://diekunstbaustelle.de/project/diekunstbaustelle-2013/
CATALOGUE ONLINE: https://issuu.com/wolfganghauck/docs/2013_diekunstbaustelle_katalog_web
2014
No project
2015 – 2016
PROJECT TITLE: Der Panther im Inselbad
Sociocultural history project, panel discussion, publications, historical research.
INFO: https://diekunstbaustelle.de/project/der-panther-im-inselbad/
WEBSITE: www.derPanther.org
VIDEO: https://vimeo.com/247349591
PROJECT: PRESERVE, REMEMBER AND COMMEMORATE
INFO: https://diekunstbaustelle.de/project/bewahren-erinnern-und-gedenken/
TOPIC: Study on the visual documentation of historical places of remembrance using the example of Camp VII Kaufering
In the project "Conceptual Design of an Internet-based Documentation Platform as a Virtual Place of Remembrance", the design and structure of a target group-oriented website was developed and examined in two studies together with the University of Augsburg.
WEB SITE: Virtual Tour Camp VII http://lager-vii.ns-dokuzentrum-landsberg.de/
2017
PROJECT: Preservation and commemoration
INFO: https://diekunstbaustelle.de/project/bewahren-gedenken
Youth project. Inventory of the concentration camp cemetery in Erpfting.
RESULT: To date, the flyer and map is the only information available at the Landsberg tourist office on recent contemporary history. It is available in German, English and Hebrew.
FLYER: https://www.diekunstbaustelle.de/pdf/2017_Flyer_KZ-Friedhof_Erpfting_DE_web.pdf
2018
PROJECT: WOLF DURMASHKIN COMPOSITION AWARD
Bernstein Anniversary Concert 1948-2018, international composition competition, invitation of contemporary witnesses and survivors and descendants of the Holocaust.
INFO: https://diekunstbaustelle.de/wp-admin/post.php?post=17767&action=edit
VIDEO: https://vimeo.com/269728234
PROGRAMME UNF EXHIBITION CATALOGUE: PDF Download https://www.dropbox.com/s/450joxffim75cil/2018%20wdca%20programm%20web%202.pdf?dl=0
in connection with
PROJECT: First International German-Jewish Festival Week in Landsberg am Lech
PROJECT: Commemoration of 70 years of the founding of the State of Israel
PROJECT: From Lithuania to Landsberg
INFO: https://landsberghistory.de/von-litauen-nach-landsberg/
VIRTUAL EXHIBITION: https://landsberghistory.de/exhibition-ll-de/
TRAILER: https://vimeo.com/372984174
2019
PROJECT: Landsberg Stories
Exhibition of the youth projects 2014-2018. An exhibition was integrated there:
Hitler 1924 exhibition, surveys and information on the release from prison and 95 years of Mein Kampf.
INFO: https://diekunstbaustelle.de/project/landsberg-stories/
VIRTUAL TOUR: https://diekunstbaustelle.de/vr/landsberg_stories/
—–
PROJECT: Theatre play Die Stelzer
Berthold Brecht: The Unstoppable Rise of Arturo Ui
Occasion 95 years of Hitler's imprisonment
TRAILER: https://vimeo.com/236136059
VIDEO: https://vimeo.com/390369809
—-
PROJECT: Digital inventory with 360° images of the Penzing airbase and bunker complex of the Welfenkaserne for virtual tours
Not yet published: A part can be seen in the virtual exhibition 2020 of Penzing.
2020
PROJECT: 2020-1945 Inventory of Landsberg's Remembrance Culture
Virtual exhibition with a presentation of the activities for the 75th anniversary of the end of the war in Landsberg am Lech
INFO: https://diekunstbaustelle.de/project/1945-2020-landsberger-erinnerungskultur/
WEBSITE AND VIRTUAL EXHIBITION: www.LandsbergHistory.de
2021
PROJECT TITLE: Landsberg HistoryApp
INFO: https://diekunstbaustelle.de/project/landsberghistoryapp/
The district-wide project is currently being realised.
One focus is the local presentation of National Socialism in the district of Landsberg am Lech.
More information in our yearbook: