International composition competition for up-and-coming artists on "Music and Holocaust"
Call for participation in the Wolf Durmashkin Composition-Award.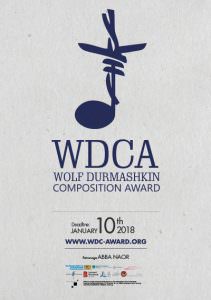 Landsberg/Munich. With the Wolf Durmashkin Composition Award, WDCA, young musicians up to 35 years are called upon to deal with the Holocaust and to create contemporary and artistical interpretations.
The namesake is the Jewish pianist, composer, conductor and choir director Wolf Durmashkin from today's Vilnius, who was murdered by National Socialists in an Estonian concentration camp in 1944 at the age of 29. The competition is induced by the 70th anniversary of the concert of the "Orkester fun der Szeerit Hapleitah" (orchestra of the last survivors), which at that time, was conducted by Leonard Bernstein in Landsberg's camp for displaced persons. Durmashkin's sisters were members of that orchestra.
Wolf Durmashkin
Durmashkin had already made a name for himself as a versatile, highly-endowed musician far beyond the borders of Lithuania when, in June 1941, he and his family were forced to live in the ghetto with deprivation, humiliation and constant fear of death. For him, music was an expression of the spiritual resistance against exclusion, hatred, violence and extermination.
His sisters, the singer Henia and the pianist Fania, survived the Holocaust in the concentration camps outside Kaufering / Landsberg after their deportation. They became members of the DP orchestra of St. Ottilien, which gave the so-called "liberation concert" at the end of May 1945, only one month after their liberation. Three years later, in Landsberg's camp for Displaced Persons, Leonard Bernstein conducted the orchestra, which by then, had changed its name to "Orkester fun der Szeerit Hapleitah" (orchestra of the last survivors). At the occasion of the 70th anniversary of that performance on May 10, 2018, which also commemorates the foundation of the State of Israel on May 14, 1948, the winning compositions, endowed with a total of 6,500 euros will be premiered.
International
Apart from the commemoration of the almost forgotten musicians, the aim is to stimulate young people, to develop an awareness of the past and to simultaneously build musical bridges into the future. The internationally announced WDCA was developed by the journalist Karla Schönebeck as well as by the arist Wolfgang Hauck, chairman of Landsberg's sociocultural association «dieKunstBauStelle e.V.», and is conducted in cooperation with the University of Music and Performing Arts in Munich – with Prof. Dr. Bernd Redmann, Prof. Jan Müller-Wieland, and Prof. Tilman Jäger in charge.
Further involved is the director of the Bavarian Philharmonics, Mark Mast, as well as the author and violin maker Martin Schleske. The patron is Abba Naor, vice president of the Comitée International de Dachau, who was born in Lithuania.
Website: www.wdc-award.org
Download Poster: www.wdc-award.org/pdf/2017 WDCA-Poster-A2-print-ready.pdf