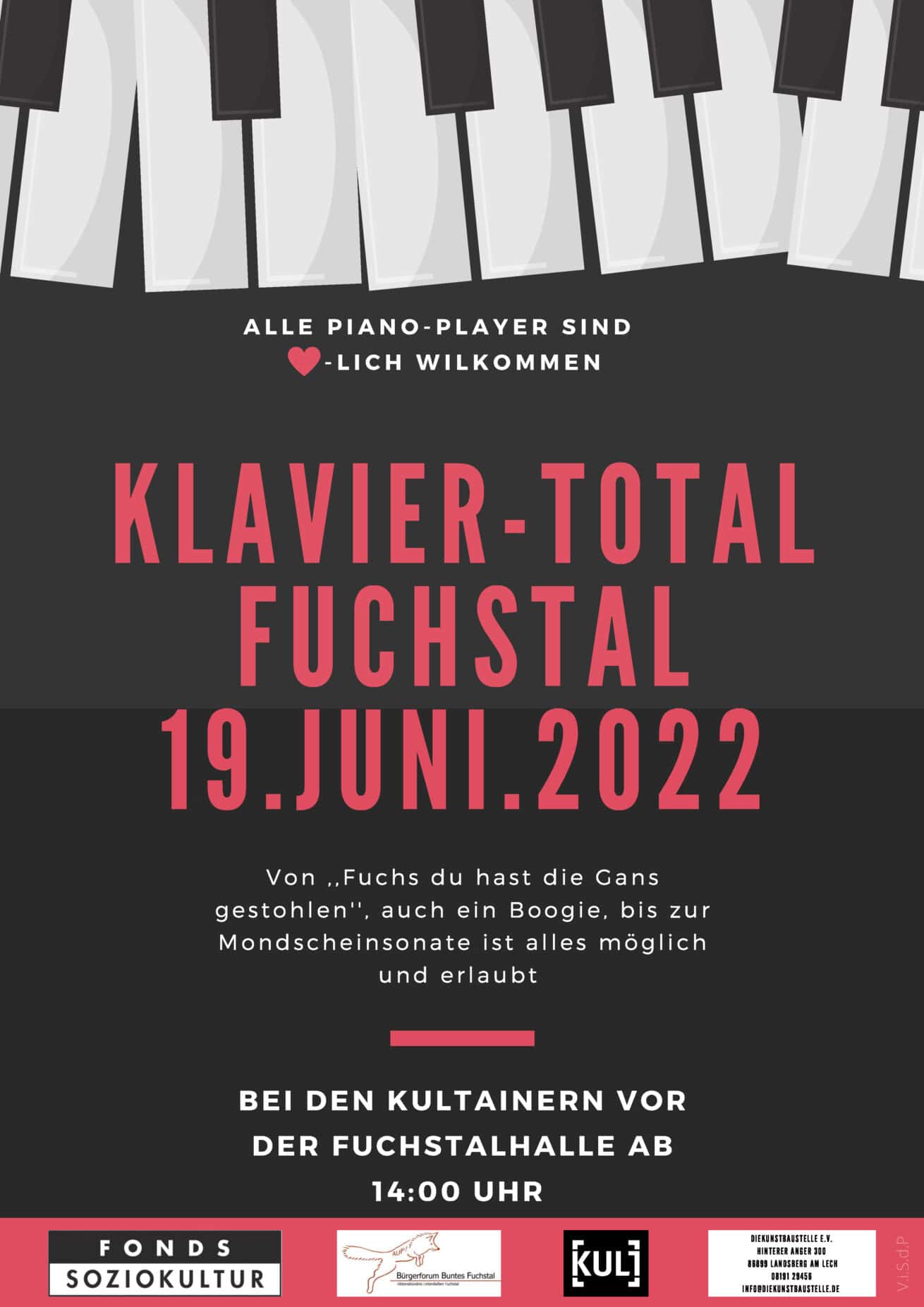 Klavier Total in Fuchstal und Lesung Richard Rost
Sonntag, 19. Juni 2022 ab 14:00 bis 18:00 Uhr
Location: Kultainer Fuchstalhalle, Freybergstraße 34, Fuchstal
On Sunday, 14 June at 14:00 the stage is set for pianists, followed at 19:00 by a reading by Richard Rost.
Sunday starts with music. The project "Play Me, I'm Yours" by the British artist Play Me, I'm Yours Luke Jerram is the model for the event "Klavier total"! The Bürgerforum Buntes Fuchstal and the association dieKunstBauStelle transform the Kultainer site into a music stage. To do this, they will simply place a piano in front of the Fuchstal. This is an invitation to all pianists to take up the keys and play.
From "Fuchs du hast die Gans gestohlen", boogie-woogie to the Moonlight Sonata, everything is possible. The fun of music is in the foreground and this should be transferred to everyone. If everyone brings a drink and a snack, everything is together to make this Sunday an unforgettable experience.
READING RICHARD ROST
At 19:00 there will be a reading by Richard Rost from his book "Das Ketzerdorf – In Ketten". He is coming back from Italy especially to his birthplace Leeder and will talk about the book, the history and his research. Then it's back to the year 1577. In case of bad weather, the reading will take place in the youth meeting room.
Sponsored by the Fonds Soziokultur.
Admission is free.