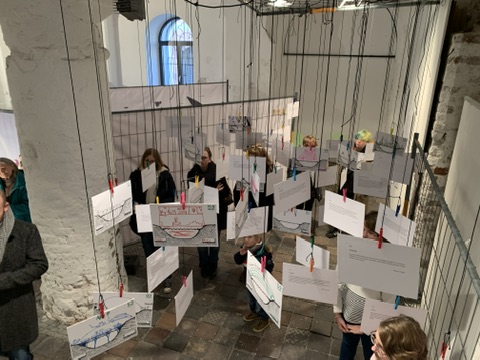 Between 20 December 2019 and 7 January 2020, there was an exhibition in Landsberg which is created by dieKunstBauStelle e.V. , named 'Landsberg Stories'. The idea is Wolfgang Hauck's and as a volunteers, we helped him for preparation and for other works. We ordered fences and decorate the inside hall like 'labyrinth' in order to make the exhibition more attractive.
It was difficult, when we placed the fence to the top of the hall but it worth.  We, 'the four volunteer' shared the days and stay in exhibition. I stayed for 4 days and in my days there were less people, because of the holiday and cold weather, so it is sad for me. But altogether more than 400 visitors came to the exhibition.
The exhibition consists lots of interesting and different topics. The most interesting one for me is, interviews with the people, coming from outside of Germany and the difficulties that they have faced during adaptation period.
Also photo of Hitler with his car in Landsberg and the Hitler toy, are interesting for me. Moreover, I observed that people find the exhibition impressive, and I think we combined lots of different topics like construction, history and culture. This means that we did a great job!
Text by Ata Yigit Sevdi