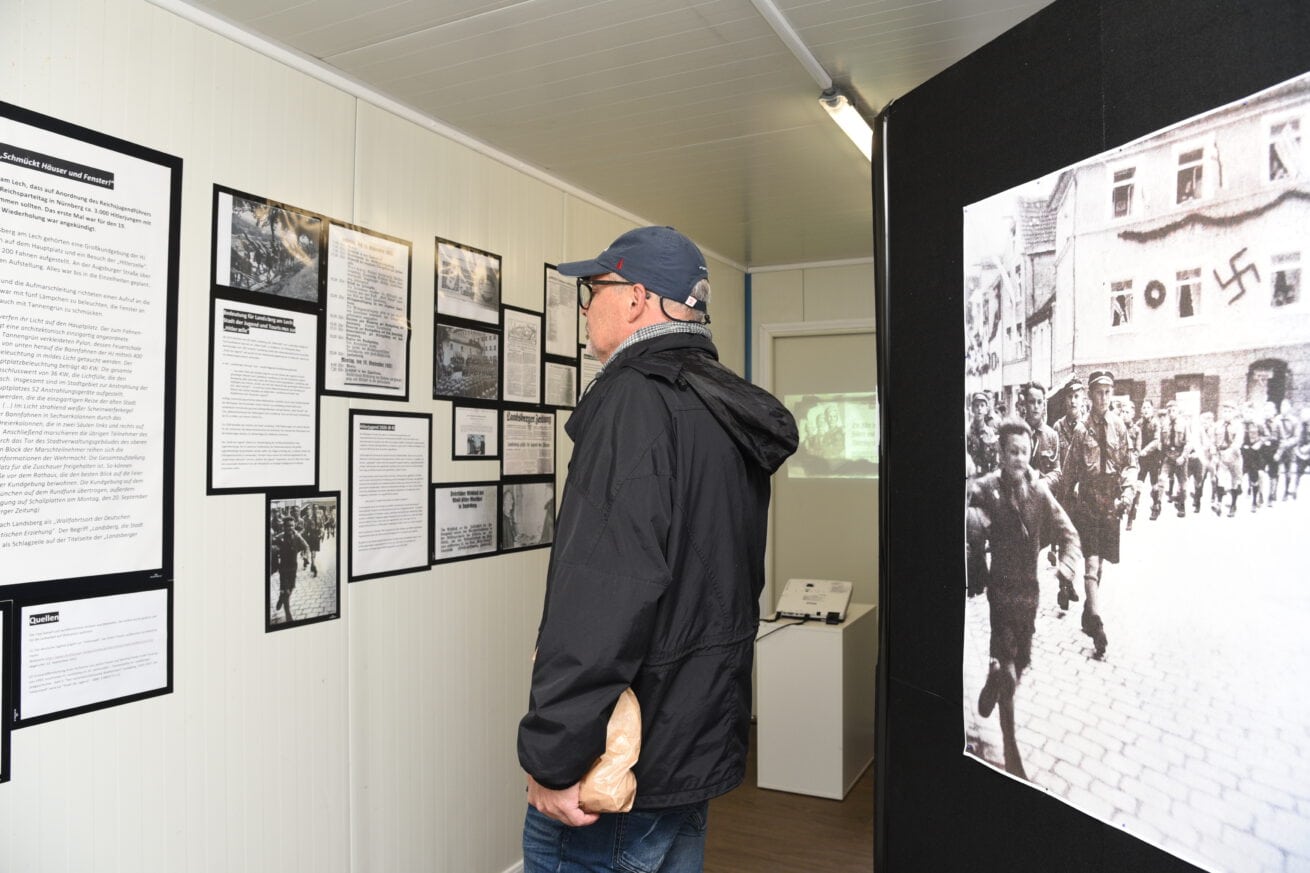 EXHIBITION *** Extended until October 9 ***
SET THE NIGHT ON FIRE
A reminder – September 19, 1937 – City of Youth
by Wolfgang Hauck
Duration of the exhibition: September 16 to October 9, 2022
In the container at the Infanterieplatz, Landsberg am Lech
Opening hours daily, but depending on weather and availability. Usually between 11 am to 6 pm and by appointment.
Admission free
Information and documents: www.LandsbergHistory.de
COMMENTS OF THE AUDIENCE
"… A brilliant idea to bring history to the people and not wait until they go to the museum."
"I've lived in Landsberg for 20 years and didn't know all this, thank you!"
"My grandpa had kept a diary about it with two friends. I was allowed to look at it once when I was 17, for a technical paper. But I had to promise not to mention any names and not to pass it on to anyone."
"No, I haven't heard anything yet. Very important to show something like that in the middle of the city!"
"… Frightening how the youth was seduced and how targeted the propaganda was."
"… I still knew Anton Posset from school lessons. It was not always easy to get along with him, but without his commitment one would not know or have available all this today. With the street names, the city should also discuss whether not to name a street after him? …"
"Decentralized history work – convincingly solved, encourages further reading and reaches many who would otherwise never go to a museum, certainly not on this topic."
"Great, I was here yesterday and again today to show it to my friends. I am glad to hear that there will be an English and digital version. I will share it!".
THEME "CITY OF YOUTH"
In 1937, the "Adolf Hitler Confession March" led thousands of Hitler Youth youth from all over Germany first to the Reich Party Congress of the NSDAP in Nuremberg to pledge allegiance to the Führer.
Afterward, about 1800 boys of the Hitler Youth marched on to Landsberg am Lech. At the first final rally on September 19, 1937, on the main square, Landsberg am Lech was named "City of Youth" by the Reich Youth Leader, thus expanding its status as a "place of pilgrimage for National Socialism."
For the first time in 1980/81, a student project drew attention to this history. In 1993, after private research, a series of essays on it was published. Nevertheless, after 85 years, this chapter of the city's history has been pushed out of the collective memory.
The exhibition addresses this memory gap with an artistic installation based on the research of 1993 and exemplarily outlines the current state of historical awareness.
Idea and realization: Wolfgang Hauck
Illustration: Gonzalo Orce
Consulting: Dr. Edith Raim, Manfred Deiler
Production: dieKunstBauStelle e. V., Landsberg am Lech
Funding: German Foundation for Commitment and Volunteering
#landsberghistory #landsberghistory #European Holocaust Memorial Foundation #dieKunstBauStelle #wolfganghauck #cultainer #memory culture #memorial culture #landsbergamlech #stadtderjugend #nsgeschichte #zeitgeschichte #hj #hitlerjugend #bekenntnismärsche #fackelmärscher #facklumzug #schirach #dsee