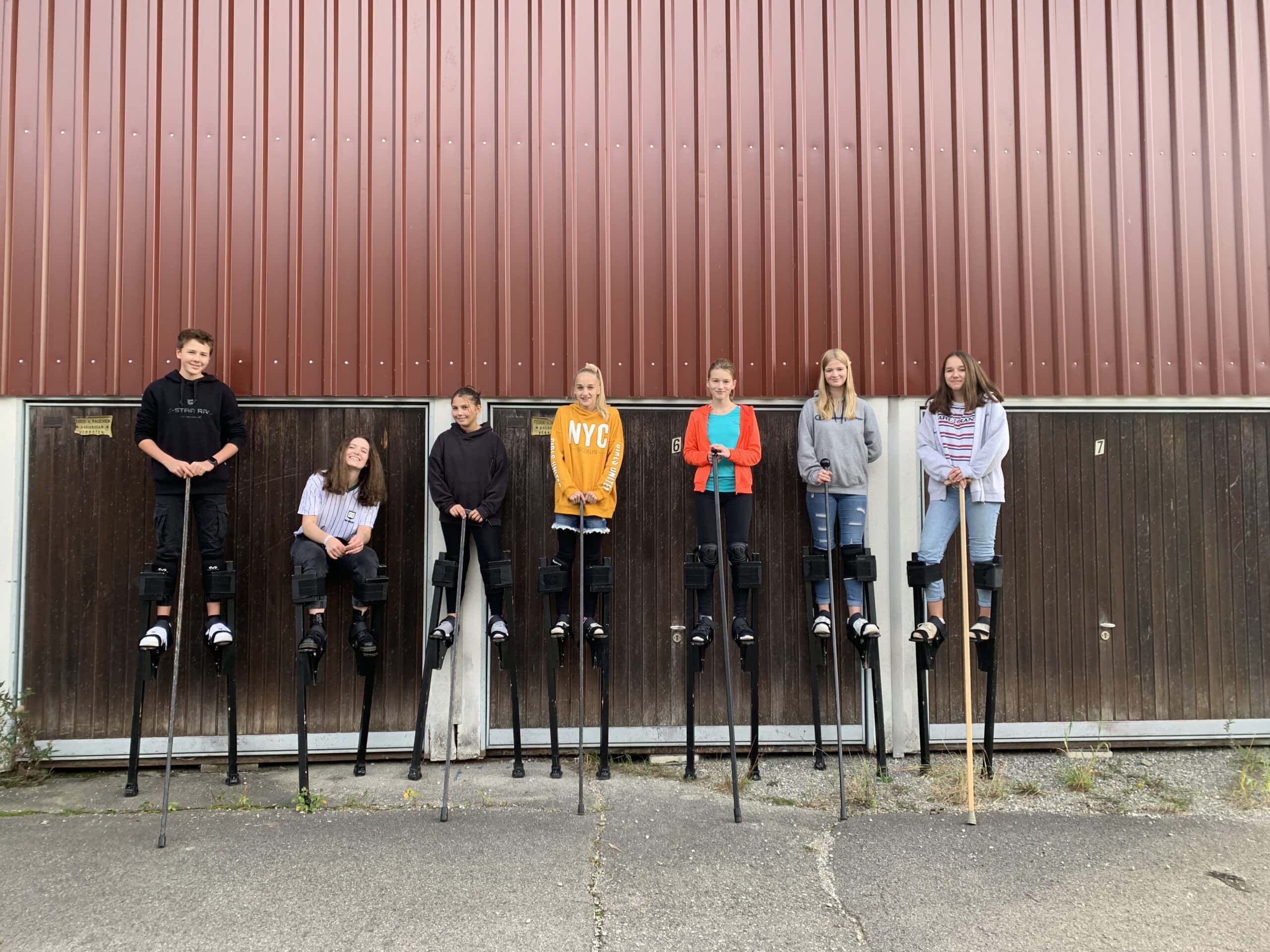 PROJECT TITLE
OUT OF EDGE AND TAPE
FOCUS: Performing arts, theatre on stilts
AGE GROUP: 11-18 years
PLACE OF OPERATION: Landsberg am Lech, primary school gymnasium in Platanenstraße
STAGES OF THE PROJECT
Theatre on stilts workshop: Five days taster courses and ten days intensive workshop
October-November 2020
CONTENT AND TOPICS
The alliance of the cultural association dieKunstBaustelle, the secondary school Landsberg am Lech, and the theatre group "Die Stelzer", will be supported by the project "Außer Rand und Band. to implement an extra-curricular theatre project in Landsberg am Lech with educationally disadvantaged young people between October and November 2020.
Under the direction of the theatre, the young people on stilts will be taught the skills to play theatre with theatre on stilts. In the first phase of the impulsive days, five days are dedicated to trying out theatrical play and walking on stilts, followed by a training phase of ten days during which the participants work together on a performance. About 15 to 20 young people aged 11 to 18 years will participate. Due to the Corona pandemic, it is unfortunately not possible to show a public performance at the end.
In the taster courses and workshops, the first thing that is offered is to get to know, experience, try out and practice acting skills, speaking, moving, improvisation, and the acrobatic ability to play on stilts. Afterward, the topos of the classic "hero's journey" is taken up with the young people and their own stories are developed.
OBJECTIVES
The core objective is to promote the skills of 15-20 educationally disadvantaged young people in order to strengthen their artistic, narrative, performing, and communicative competencies. On the one hand, young people are to be given space for self-expression, but also for participation in other lifeworlds. The combination of body-oriented theatre on stilts and speech and text work enables a variety of levels of experience.
DURATION
The project was implemented from 1 October to 15 November 2020.
EVENTS
Dropped due to corn pandemic
LECTURES
Stilts and theatre
Peter Pruchniewitz, Anne Tysiak and Wolfgang Hauck
YOUNG PEOPLE
Age 11 to 18 years
PARTNER


Secondary school Landsberg am Lech
Die Stelzer – theatre on stilts
PROMOTION
"The project OUT OF EDGE AND TAPE is supported by the programme "tanz + theatre machen stark" of the Bundesverband Freie Darstellende Künste e.V. as part of the federal programme Kultur macht stark. Alliances for Education of the Federal Ministry of Education and Research.

STATUS
In implementation