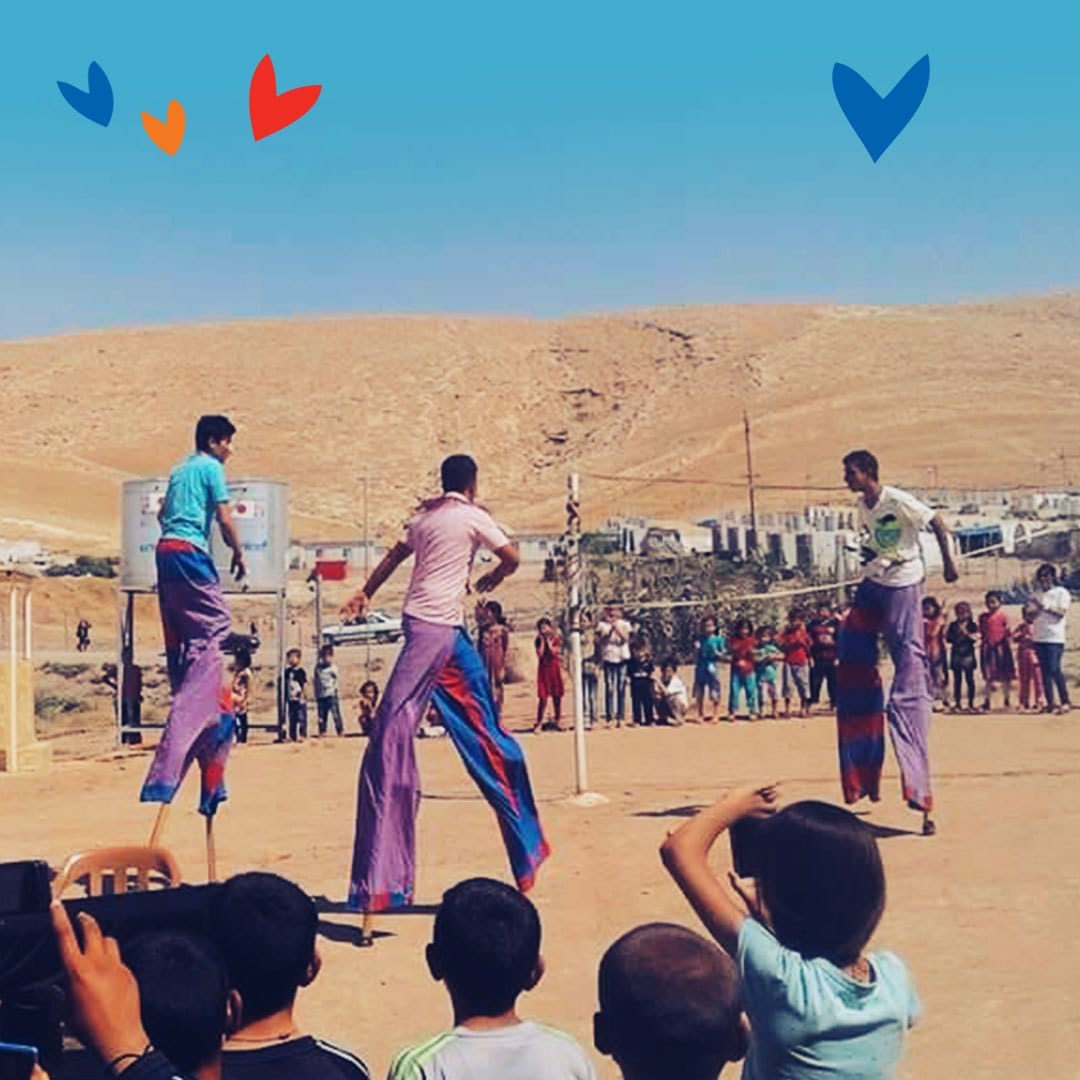 AN AUXILIARY PROGRAM FOR HELPING REFUGEES
DURATION: 2014 to 2018
FOCUS: Cultural support and education program
TARGET GROUP: Fled children and young people
LOCATION: Turkey, Afghanistan, Iraq
SOCIAL CIRCUS & CIRCUS EFFECT
Conflicts in the Middle East and North Africa prevent more than 13 million children from attending school and destroys their hopes and future. Through war and the journey into exile followed by a transition to a new life, many refugee children fail to access school education for months or even years.
Escaped children and adolescents are growing up in third world countries, mostly without access to education and with considerable restrictions on personal development. They become cheap workers and have to provide for their families. As a result, school education offers are missing and they can't participate in such offers due to traumatic disturbances.
With the «Circus-Effect» project, we can jointly contribute to a better future for the region and offer new prospects to thousands of children.
EXPERT COMMUNITY
The organizations behind "Circus-Effect" unite in an expert community that carries out social circus activities and theater pedagogy for and with young people from the crisis regions. The "Circus-Effect" is a cooperative effort to reach even more children and young people affected by war and flight.
"Social Circus" includes circus performances and classes with circus, theater and music techniques to create alternative environments where the participants can experience different concepts. These activities promote social skills and social change in the individual, community and at regional and global level.
EDUCATION
Social circus pedagogy is not about becoming a circus artist but rather,  learning key competences such as effective communication, effective teamwork and problem solving, as well as imparting knowledge about principles, rules and social values.
In the war zone, "social circus" is a good vehicle for the relief of trauma and the discharge of tensions that arise in people who are forced to live in dangerous, overcrowded spaces. Effects of exposure to war-related factors influence the personality structures of the child, identity formation, adaptivity and coping mechanisms, the internalized norms of right and wrong, mechanisms to compensate for aggressive impulses, and the habitual way of referring to others. Through the cultural offerings – drawing, playing, painting, shaping, juggling, drumming, we create opportunities to express tensions created by the experience of the conflict and associated with their stress and loss.
"Social Circus" is important for the development of healthy mind, body and personality.
FOR THE FUTURE, FOR LIFE
The implementation of "Social Circus" is about the "Circus Effect". The "Circus Effect" will enable them to enjoy life. Cultural and dream-pedagogical measures are mainly aimed at children and adolescents. These experiences have had a lasting and positive impact on families and society.
These children and young people will later be able to help rebuild their country as future craftsmen, teachers, nurses, doctors, architects, musicians, scientists and technicians in Syria, Iraq, Sudan, Libya or Yemen.
"Social Circus" introduces the first steps towards a self-determined social life and normal participation.
The international focus is currently still in Turkey, Iraq and Afghanistan. The focus is on the development of a coordination center and a professional organizational structure for the sustainable implementation of "Social Circus in crisis and war zones" and the development of working materials as well as the training and methods of "Circus Effect".
COORDINATION
The association "diekunstBauStelle e.V." accompanies and supports the community and its activities of "Social Circus in crisis and war zones" through funding, organization and consulting.
THE NETWORK
Her Yerde Sanat Dernegi (Art Anywhere Association), Turkey Art Anywhere Association
Afghan Educational Children's Circus (AECC), Afghanistan www.afghanmmcc.org
Mobile Mini-Circus for Children (MMCC), Afghanistan www.afghanmmcc.org
Die Stelzer – Theatre on Stilts, Germany www.CulturalRelief.org
Nomadways, France www.nomadways.eu
Goethe-Institut, Istanbul Goethe-Institut Istanbul
Art Eye, Poland
dieKunstBauStelle e.V., Germany www.dieKunstBauStelle.de
The organizations pool the different experiences and possibilities of "social circus" in war and crisis areas.
SUPPORT STRATEGIC PARTNERSHIPS
2015-2018 With the support of the European Community and the "Erasmus + Strategic Partnerships" program, the exchange of experiences and the conception of social circus in crisis areas is promoted for sustainable implementation and expansion. As a preparation, the experience gained over the past 15 years for the production of training material – video and online courses – should be summarized.
To this end, further trainers, "Joymaker", are trained and further multipliers increase the number of children and young people.
VISIONS 2017 TO 2020
The results of the strategic partnerships are visions of how up to 35,000 children and adolescents can be looked after every year. This will be somewhat different in the respective countries (Turkey, Afghanistan and Iraq). However, there are shared visions on how this can be made possible. The focus is also on allowing the initial  help to become an avenue for self-help, which is to be done by the training of former participating trainees.
The program has eight core areas:
Establishment of a central coordination center for the program in Germany
Annual meetings for the exchange of experience, professionalisation and development of «Circus Effect»
Production of multilingual teaching materials, videos, tutorials, online courses that allow easy entry and training
Organizing office, workshops and trainings of "Joymakers" in Turkey
Organization office, workshops and training of "Joymakers" in Iraq
Organizing office, workshops and training of "Joymakers" in Afghanistan
"Fun-Container" and "Edu-Container" as sociocultural protection areas. These are converted transport containers, which are used as cultural and social areas in settlements and camps. Every year, three containers with appropriately trained staff and trainers are to be created. Through the training of local multipliers and the establishment of the cultural stations, the effect of «Social Circus» can be at least tenfold.
EVENTS OF THE NETWORK
Ausstellung 15. bis 21. Februar 2017, Landsberg am Lech, Foyer historisches Rathaus
HOPE INVESTING | GIRLS FROM MOBILE MINI CIRCUS AFGHANISTAN Motlaq Nafise

CULTURAL RELIEF PROGRAM –TRAINING THE TRAINERS Wolfgang Hauck, Leonard Mandl

2. Internationale Tagung, Istanbul, 11.-16. April 2017
Afghanisches Circus Festival, Kabul, Afghanistan, Studienaufenthalt 6.-12. August 2017
Circus Festival Mardin, Türkei, Studienaufenthalt 15.-24.9.2017
3. Internationale Tagung, Istanbul, 2018
Konzert und Veranstaltung Mardin 2018
Konzert und Veranstaltung München, 2018
PROJECT WEBSITES
RADIO
16.2.2017 BR2 kulturWelt Kulturbotschafter im Kriegsgebiet. Ein Beitrag von Joana Ortmann.
PRESS ARTICLES
20.2 2017 Landsberger Tagblatt «Sie wollen Kindern in Flüchtlingslagern helfen»
PARTICIPATING ORGANISATIONS