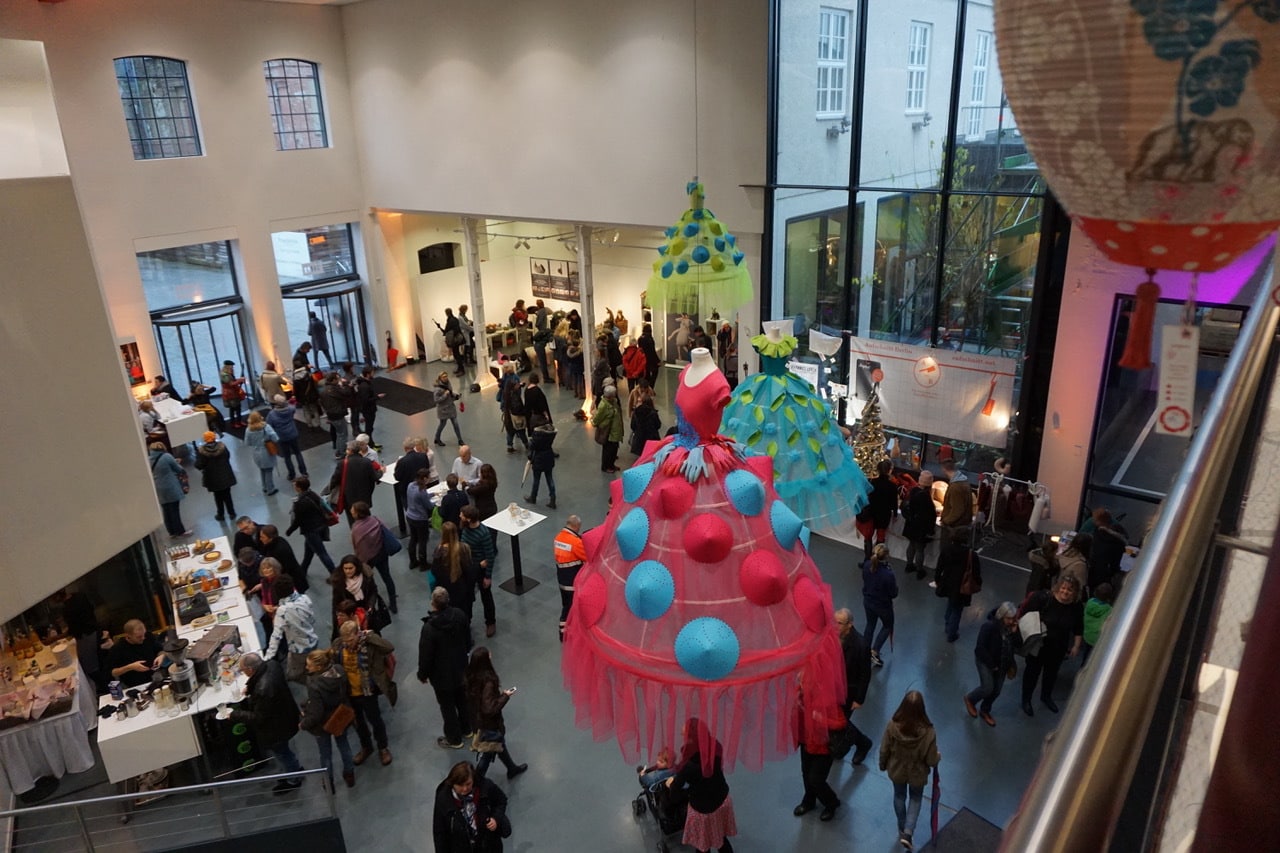 PROJECT TITLE:
THE RED THREAD – COLORFUL WORLDS IN CASE AND FILL (2015)
FOCUS: Performing Arts, Music Performance
AGE GROUP: 15-18 years
PLACE OF IMPLEMENTATION: Landsberg am Lech
SECTIONS OF THE PROJECT
Stilts workshop
Costume Workshop
Staging Workshop
Exhibition Workshop
CONTENTS AND TOPICS
During this project in 2015, young people discussed the questions of fashion and their own expression and self-understanding as well as developing their own costumes. The presentation of these fashion and costumes was staged as a fashion show, performance and exhibition installation in the main square of Landsberg in the «Langen Kunstnacht».
For the fashion show and performance the young people analyzed with the genre "theater on stilts".
With this representation, the young people transformed the inner city into a stage. For several months they developed their own collection, which was made from "1-euro-items". The result: WOW!
EVENTS
September 19, 2015: Performance Landsberg am Lech «Lange Kunstnacht»
13th December 2015: Gymnasium Mittelschule Landsberg am Lech, exhibition and performance.
In addition, the presentation of costumes and documentation will be shown again in March 2016.
SPEAKERS
Costume
Renate Stoiber
Theatre on Stilts
Uli Zentner, Peter Pruchniewitz, Christine Fuchs, Julia Mann, Wolfgang Hauck und andere
TEENAGERS
Age 14 to 18 years
PARTNERS
Mittelschule Landsberg am Lech
Die Stelzer – Theater auf Stelzen
FUNDERS
"The project The Red Thread is supported by the Youth program at the center of the Federal Association of Sociocultural Centers, within the framework of the Federal Culture program. Alliances for the formation of the Federal Ministry of Education and Research. "

PROJECT ARTICLES
https://www.kreisbote.de/lokales/landsberg/neues-jugendprojekt-kulturvere…
https://www.augsburger-allgemeine.de/landsberg/Mode-aus-Zeitungspapier-id…
https://www.augsburger-allgemeine.de/landsberg/Stelzen-ist-nicht-nur-weib…
VIDEO DOCUMENTARY
The Red Threat Part 1 (2015)

RUNNING TIME
15.01.2015 – 31.12.2015
STATUS
The project was successfully completed on 31.12.2015.
In March 2016, the exhibition of the costumes and documentation in Landsberg am Lech was shown again. From November to December 2016 costumes were shown at the State Textile Museum in Augsburg.