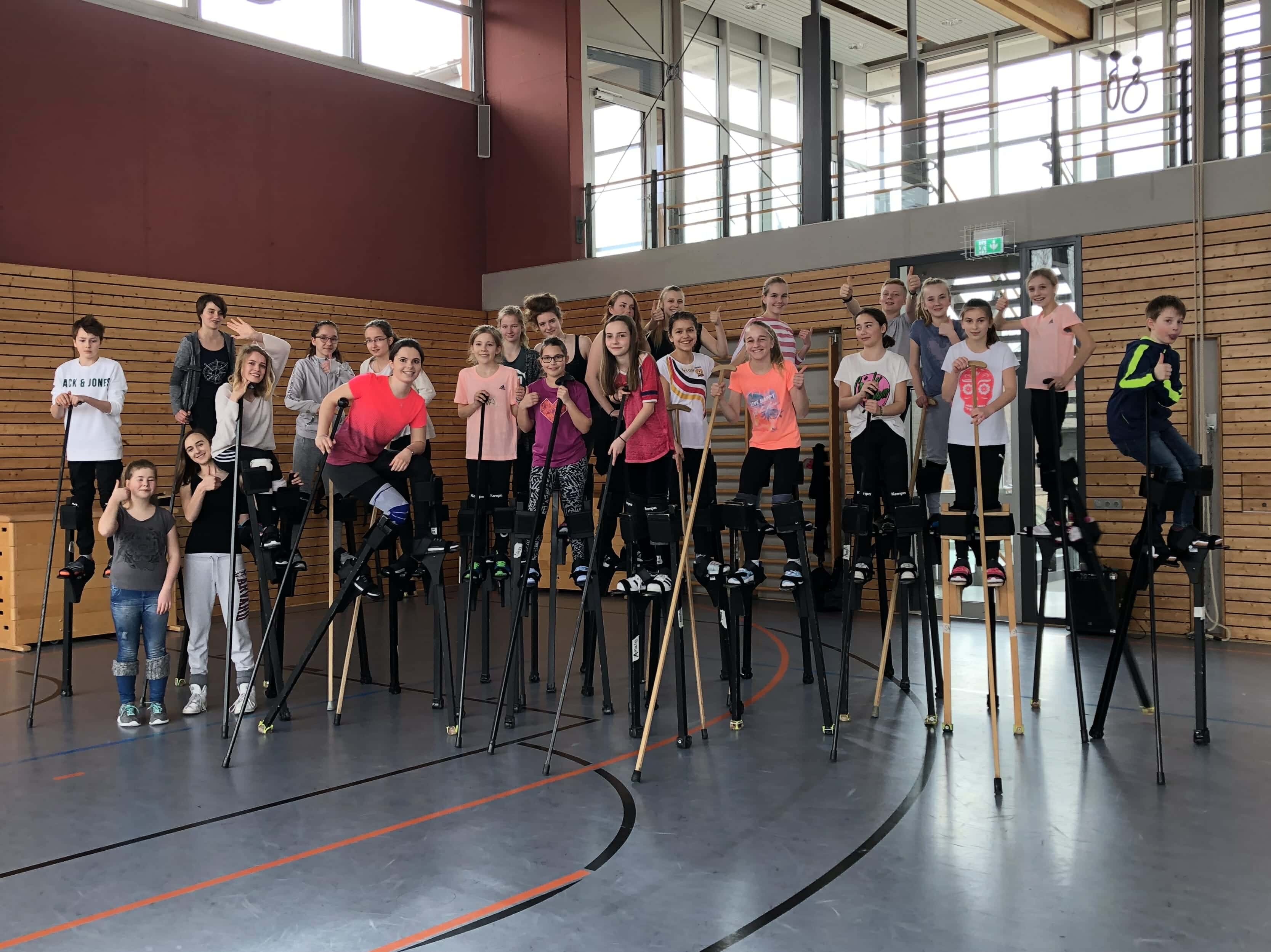 PROJECT TITLE
Walkers: Here today, there tomorrow.
SCHWERPUNKT: Performing arts, theatre on stilts
AGE GRUOP: 11-18 years
VENUE: Landsberg am Lech, Gymnasium primary school in the Platanenstraße
TERMINE UND INFO: Webseite Stelzen-Workshop
SECTIONS OF THE PROJECT
Theater on Stilts Workshop: Three days taster courses and ten days Intens-Workshop
Performance on 29 and 30 June 2019
CONTENT AND TOPICS
The alliance of the cultural association dieKunstBaustelle, the Mittelschule Landsberg am Lech and the theatre group "Die Stelzer" will be supported with the project "Wanderer: Today here, tomorrow there". in an extracurricular setting, a theatre project in Landsberg am Lech with educationally disadvantaged young people between April and December 2019, under the direction of the theatre DIE STELZER will impart the skills to play theatre with theatre on stilts. In the first phase of five days of stilt walking will be invited, followed by a training phase of ten days during which the participants will work together on a performance.
Approximately 15 to 20 young people aged 11 to 18 will participate. The result will be a 45-minute performance on the main square on 30.6.2019 in Landsberg, Germany, in which the participants will first get to know, experience, try out and practice acting skills, speaking, moving, improvising and the acrobatic ability of playing on stilts.
Afterward, the topos of the classic "hero's journey" will be taken up with the young people and new perspectives on migration in the sense of "hero's journeys" will be jointly developed for the staging. The "Theatre on Stilts" technique allows the performances to take place in the middle of the city and to experience self-empowerment as theatrical appropriation of the city. The title "rambler, wayfarer or walker" goes back to the "Wanderer-bicycle factories", whose founder Johann Winkelhofer belongs to the city history of Landsberg. The typewriter, bicycle, rover and Audi are connected to this and will play a "role" in the play.
GOALS
The core objective is to promote the skills of 15-20 educationally disadvantaged young people in order to strengthen their artistic, narrative, performing and communicative skills. On the one hand, young people should be given space to express themselves, but also to participate in other life worlds. The combination of body-oriented theatre with stilts and language and text work enables a variety of levels of experience.
DURATION
The project will run from 8 April to 1 August 2019 and will include the following sections: – Impustage during the holidays, 5 days in April 2019 – Intensive workshops in June 2019, closing with a public presentation on 29 and 30 June on the Hauptplatz Option: Additional performance of "Lange Kunstnacht" 16 September 2019, City Centre and City Theatre Documentation in December 2019
EVENTS
29 June 2019: Landsberg am Lech, main square
30 June 2019: Landsberg am Lech, main square
14 September 2019: Performance Landsberg am Lech "Lange Kunstnacht" (Long Night of Art)
TEACHERS
Stelzen and Theater
Peter Pruchniewitz, Julia Mann, Wolfgang Hauck and others
YOUNG
Age 11 to 18 years
PARTNER
Mittelschule Landsberg am Lech
Die Stelzer – Theatre on stilts


PROMOTION
"The project "Walkers: Here today, there tomorrow." is supported by the programme "tanz + theater machen stark" of the Bundesverband Freie Darstellende Künste e.V. within the framework of the Bundesprogramm Kultur macht stark (Culture Makes Strong). Alliances for Education of the Federal Ministry of Education and Research."

ARTICLE ABOUT THE PROJECT
follow soon
REPORTS BAVARIAN TELEVISION
STATUS
In progress.
Start on 8.4.2019
End 1.8.2019