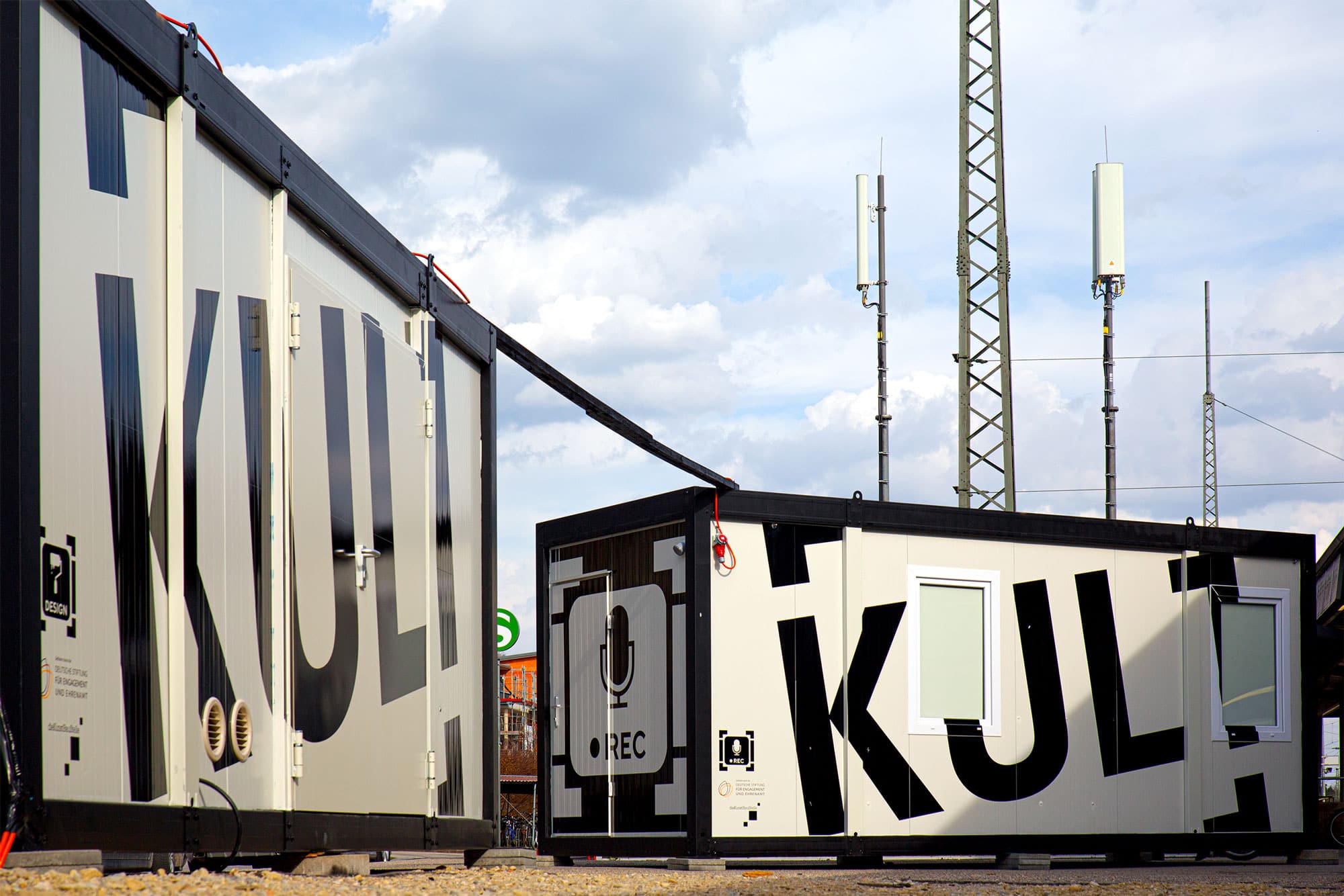 PROJEKTTITEL

KULTAINER Mobile media studios for the countryside
PRIORITY: Development of innovative infrastructures in rural areas
FIELD OF ACTION: Structural and innovative strengthening of commitment and voluntary work in rural areas
IMPLEMENTATION SPACE: County of Landsberg am Lech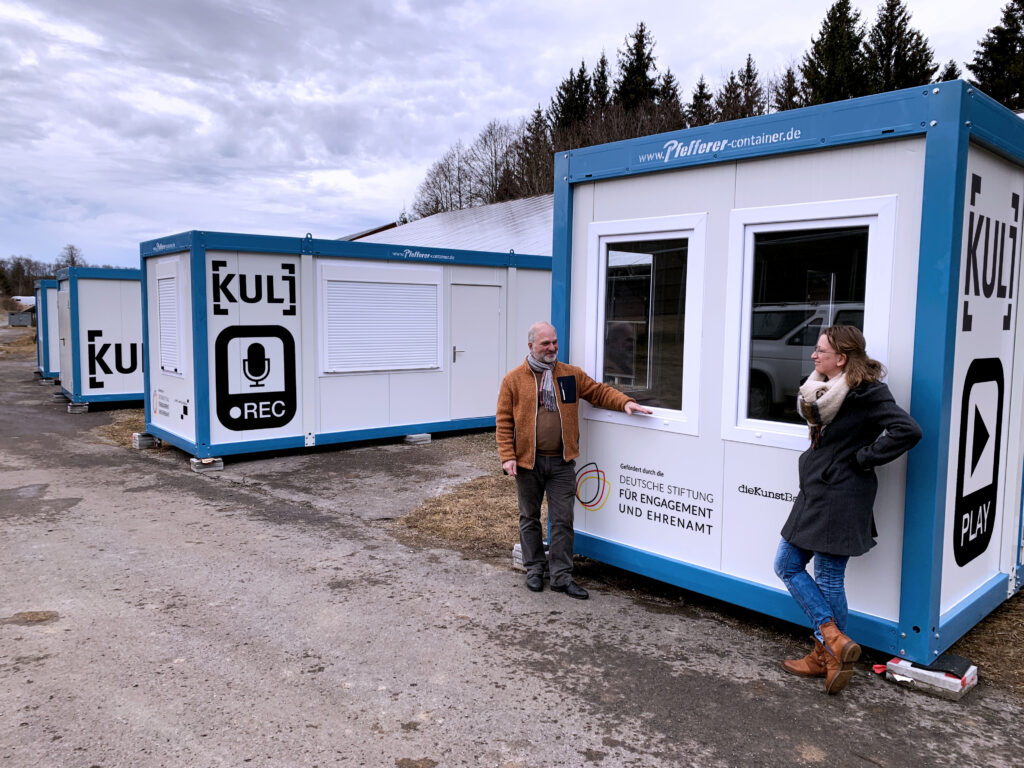 STAGES OF THE PROJECT
Installation and equipment of four media stations
Training of contributors, volunteers and helpers
Deployment and start with workshops on "social storytelling".
PRESSEARTIKEL
January 2, 2021 Kreisbote Kultur aus dem Kultainer
January 4, 2021 Landsberger Tagblatt [Artikel PDF]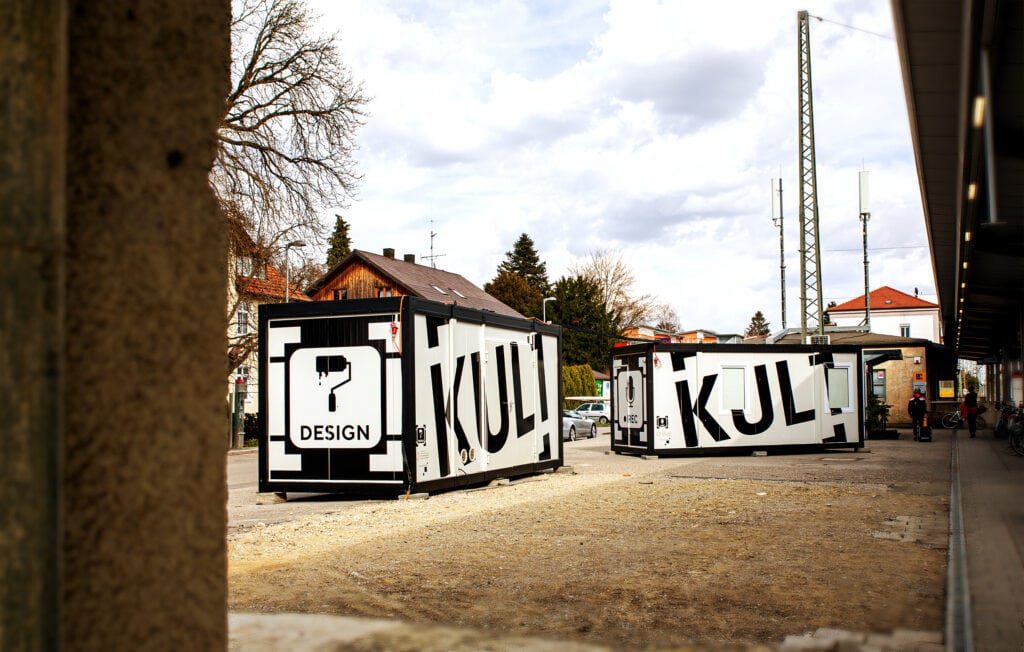 Kultainer am Bahnhof in Geltendorf, April 2021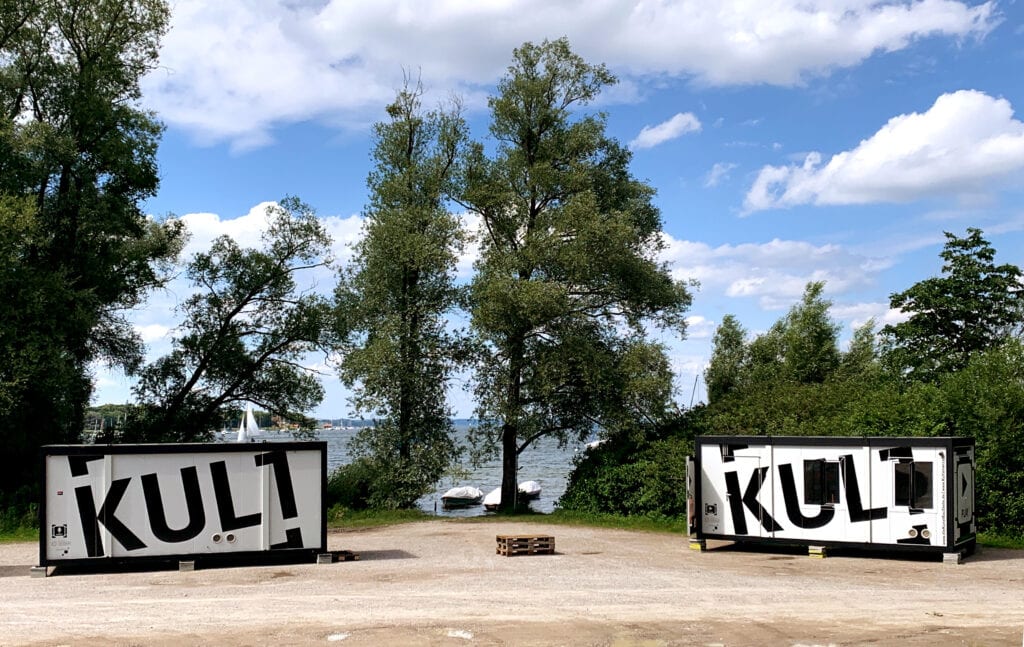 CONTENT AND TOPICS
Due to the restrictions imposed by the corona pandemic, our spaces are no longer usable and infrastructures have collapsed. Especially in villages and communities, there is a lack of appropriate contemporary places for digital, cultural participation.
In order to pass on our voluntary cultural work and experiences, we are developing a mobile, temporary and cultural base camp for the villages in our district, which is also "cool" and exciting for young people, but can also be a place for civil society participation and encounters for senior citizens. The "telling history" and "experiencing history" will be the first focus for this encounter and interaction of the generations.
This base camp will consist of four converted containers, which will be set up as a meeting place and media stations:
VR, photo, film studio
Recording and broadcasting studio
Graphic studio
Editorial office for online newspaper, podcast, and internet.
This enables us to carry out events, workshops, training courses, and projects with digital formats in a decentralized and independent manner and to establish new places of cultural encounter.
Through the open and flexible possibilities of use, it should be possible to use it to a special degree, even if contact restrictions apply.
OBJECTIVES DECEMBER 2020
Opening of a cultural base camp with four KULTAINER (culture+container) as media station, social meeting point, and event rooms for projects, further education, and workshops
Launch of socio-cultural youth formats with radio, an online newspaper, and podcasts in the middle of the respective locations in the middle of the village, municipality, or town
Start of the training series "Social Storytelling" for children, young people, and senior citizens
Participatory project work with the local actors and associations of the partners involved
Integration and combination as an operative unit for the project of the digital learning, orientation, and exploration tool, the LandsbergHistoryApp, into which the media content is to be integrated.
DURATION
The implementation period is from 25.11. to 31.12.2020.
PARTNER
Selected communities in the Landsberg am Lech district
PROJECT MANAGEMENT, CONCEPTION AND IDEA
Wolfgang Hauck
TEAM
Conny Kurz
Kathrin Schubert
Andrea Schmelzle
Sieglinde Müller
Gonzalo Orce
Susanne Zehentbauer
EXPERT ADVICE AUDIO AND STUDIO TECHNOLOGY
Peter Oswald, Audiosolutions
Oliver Glück, Sound Team Premium Audio
COST OF THE PROJECT
The total cost of the project is € 119,691.
Of this, the association dieKunstBauStelle will cover around 24,000 € from donations and contributions from its partners.
SUPPORT
The project is funded by the Deutschen Stiftung für Engagement und Ehrenamt (DSEE) with about € 95,752 and 80% from federal funds.

ARTICLES ABOUT THE PROJECT AND BLOG
Follow soon.
STATUS
The project is currently being realised.
#kultainer #dsee #dieKunstBauStelle #landsbergamlech #landsberghistoryapp