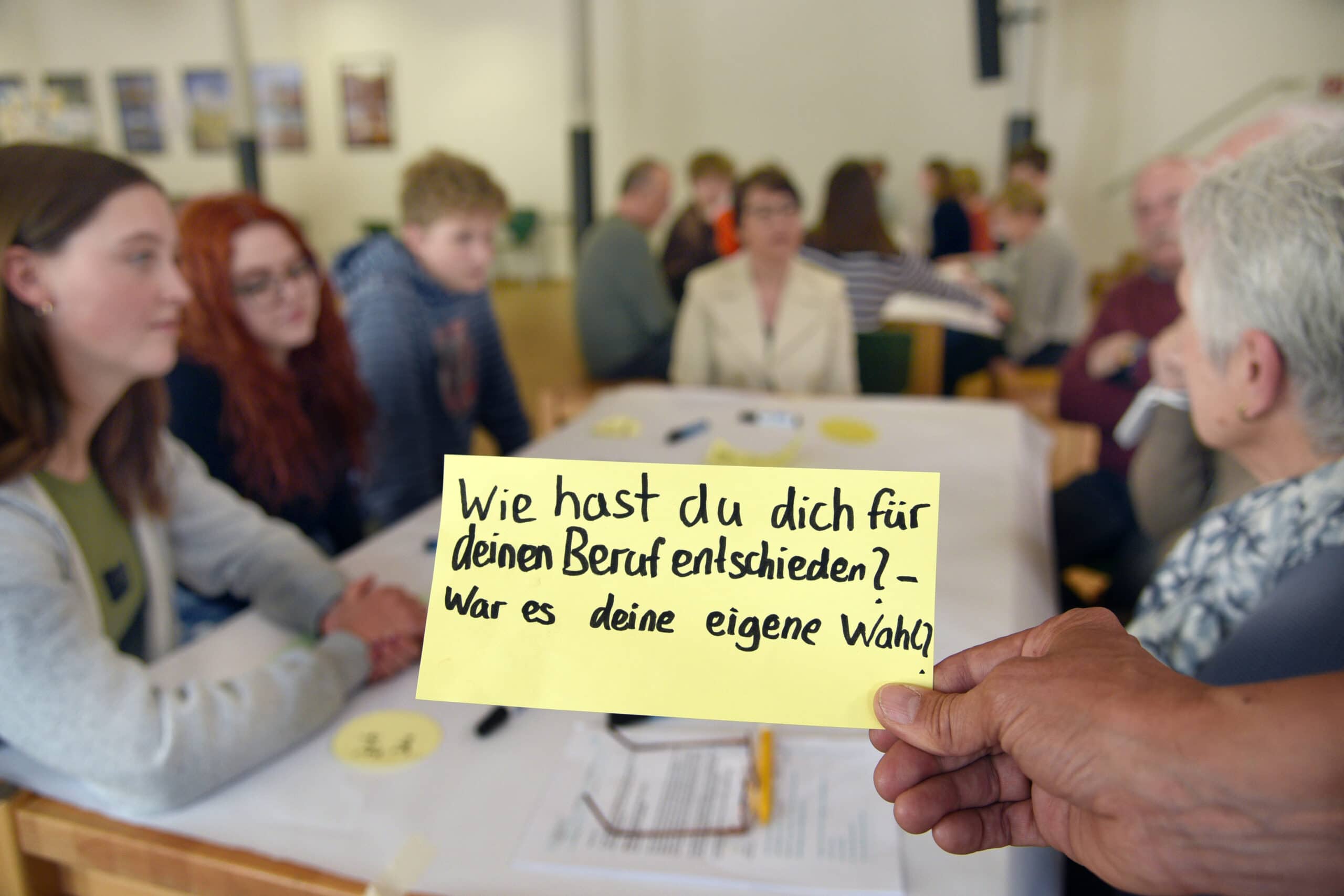 PROJECT TITLE
At the table of generations
FORMAT AND TOPICS
The project emerged from an ideas workshop for socio-cultural events with hybrid formats. The task was to develop a format for a generational dialogue for the personal exchange of life and professional experience.
Starting point
We have made the experience that the exchange between the generations is decreasing. The contact between the generations is reduced to holidays and festivities. This limits the passing on of knowledge and the transfer of life experience and values. Young people and adolescents lack the life experiences of the generations, which they need for their career choice, life decision, and development of their own canon of values.
In the context of our regional history project (LandsbergHistoryApp), an 87-year-old woman, disappointed and lonely, said: "We are not talking anymore". That was the beginning of an idea that we, as a table of generations, have developed into a project of "talking to each other again".
What is the "at the table of generations", what can it be?
Talking together is as old as humanity. It's not new, but it was dramatically interrupted by the experience of the Corona pandemic restrictions.
To bring it back to being more than just talking, we have developed a format and basics for a conversation guide in which we work with facilitators, young people, and older people to conduct a structured dialogue process together.
This begins with the development of the dialogue dramaturgy, and reflection and ends with the writing down of stories that will later be compiled into a publication. Example: Contributions to "My first day at school" as a key experience of the change of perspective from the private parental home to a public institution.
The offer is aimed at adolescents and young adults from the age of 12. On the one hand as participants, but also to be involved as assistants by developing the questions and a discussion guide together. The number of participants is ideally between 16 and 28. For three hours, the moderators then lead through the Table of Generations format.
The varied format, including coffee and cake, begins with a biographically focused "World Café" in smaller groups and continues later in one-on-one encounters, like speed dating. Another format will also be "the living library" in further rounds.
Hybrid format option
With people who are unable to participate in person due to physical or health limitations, the format can also be conducted in a hybrid fashion. For this, we offer on-site technical support and guidance.
In the pilot projects, the young people were excited and surprised by how much of the older generation's wealth of knowledge was meaningful to them. Each time, there was a request to hold this event more often so that they could participate in the wealth of knowledge, deepen it and use it to form their own life plans and values.
In particular, questions such as how to find a career or the role models that were lived by in the environment of the elders are of special interest to the younger ones. In this way, the younger people can come to grips with the criteria and values according to which the older people made their decisions and can integrate them in the process of finding their own values.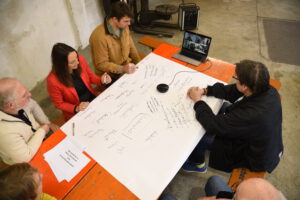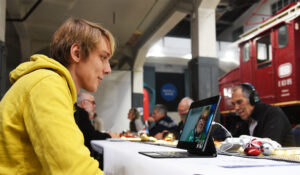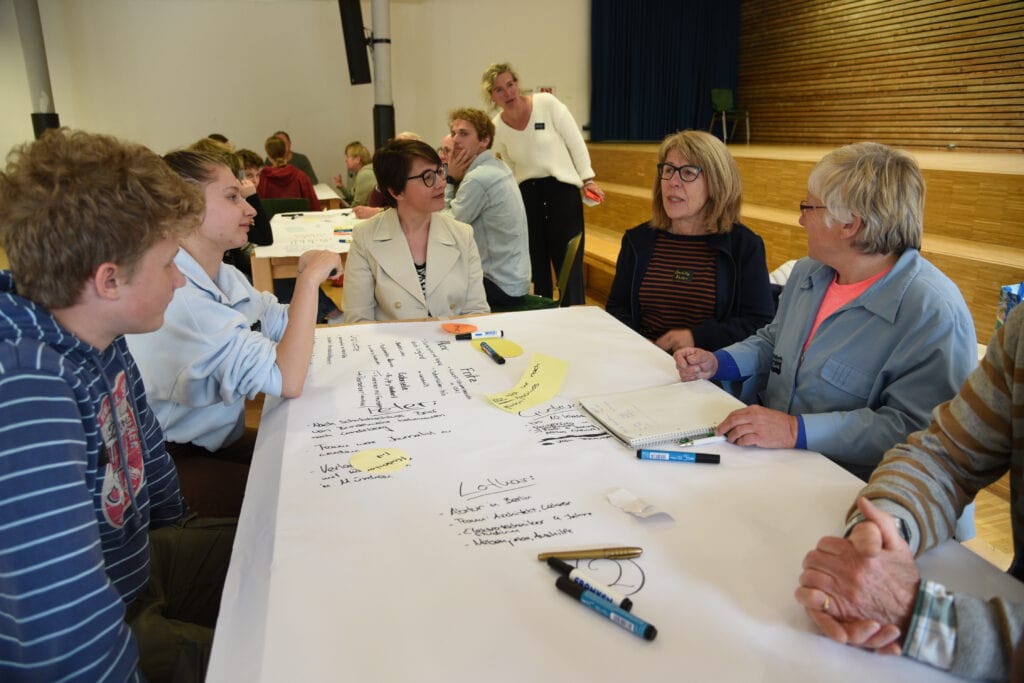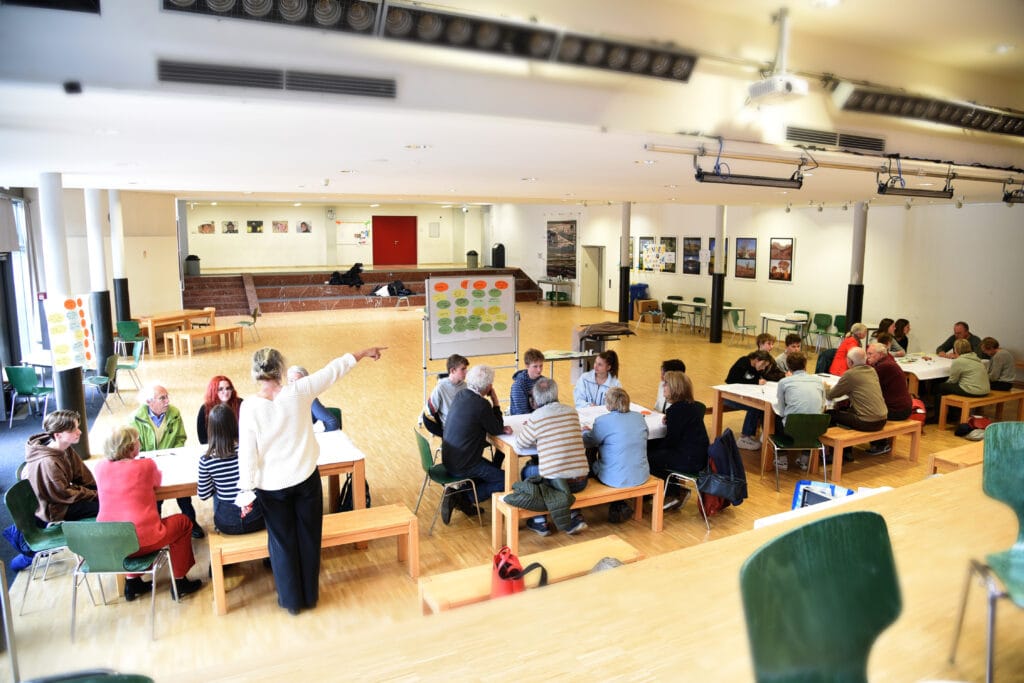 OBJECTIVES
We want to bring together young people, and older people as contemporary witnesses, in a generational dialogue and familiarize them with modern techniques as a means of communication.
In this way, we want to overcome the inhibitions and contact barriers of the target groups.
Between 12 and 24 participants are to be involved in the respective events.
In the end, there should be concrete ideas and experiences to give the format of dialogue-based storytelling of local and regional contemporary history and to plan the expansion to other communities in the Landsberg district and the city of Augsburg.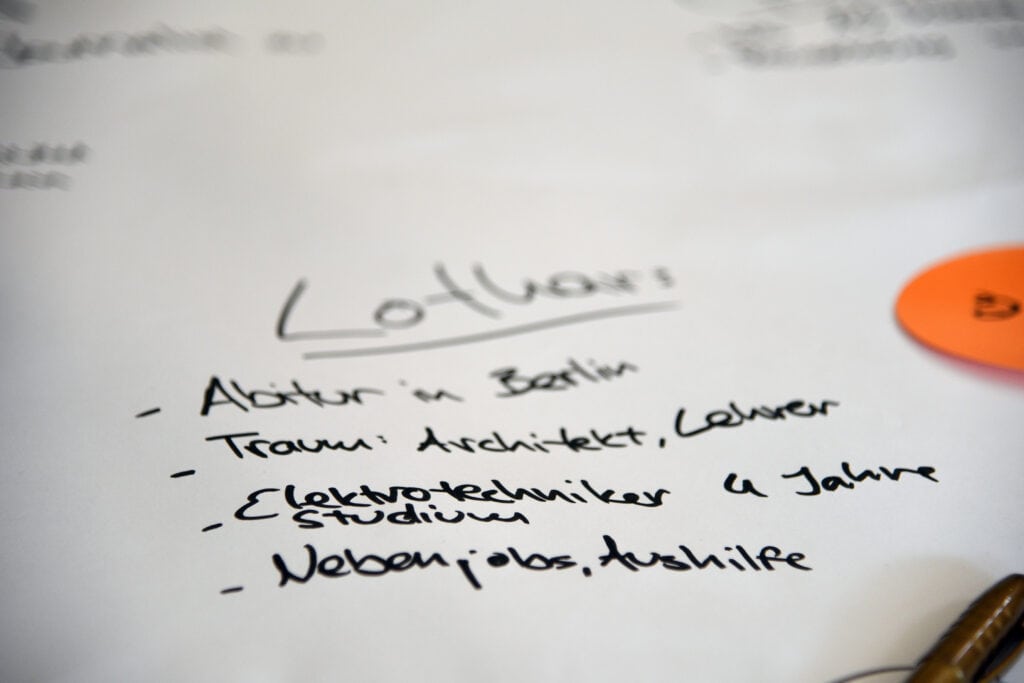 IMPLEMENTATION
We first invited citizens from various locations to a kick-off event and multiplier training in December 2021. At that time, the event was also supplemented with online conferencing techniques due to the Corona pandemic. This enabled the Table of Generations to be conducted safely.
We accompanied the discussions with professional moderation. Methods such as SpeedDating, Fish Bowl, World Café, and Open Space were used. We bundled this, expanded it, and optimized it as a dialog format.
Our group of participants used it to discuss biographical topics and also philosophical content. This form of moderated dialogues and interviews led to a generational conversation.
MULTIPLICATION 2023
We would like to start Bavaria-wide multiplication with these partners in 2023. For this purpose, multiplier training for moderation shall take place, and flyers, press, and public relations shall make the project known.
Starting in May 2023, we plan to initiate 10 start-ups in various locations and would like to form a total of 30 local groups by 2024. The networks of the alliance partners Bayerischer Volkshochschulverband e. V., Brücken Bauen e.V., and Landesvereinigung Kulturelle Bildung e.V. can still accompany the format with modules such as lectures, readings, and biographical storytelling
Our project – a project with the Values Alliance of Bavaria 
These moderated dialogues are then to become permanent in many places in Bavaria and be continued independently in each case. In 2023, we will start with 10 locations, one or two locations each month, then continue the format in 2024 in 20 locations with the StartUps. The steps will be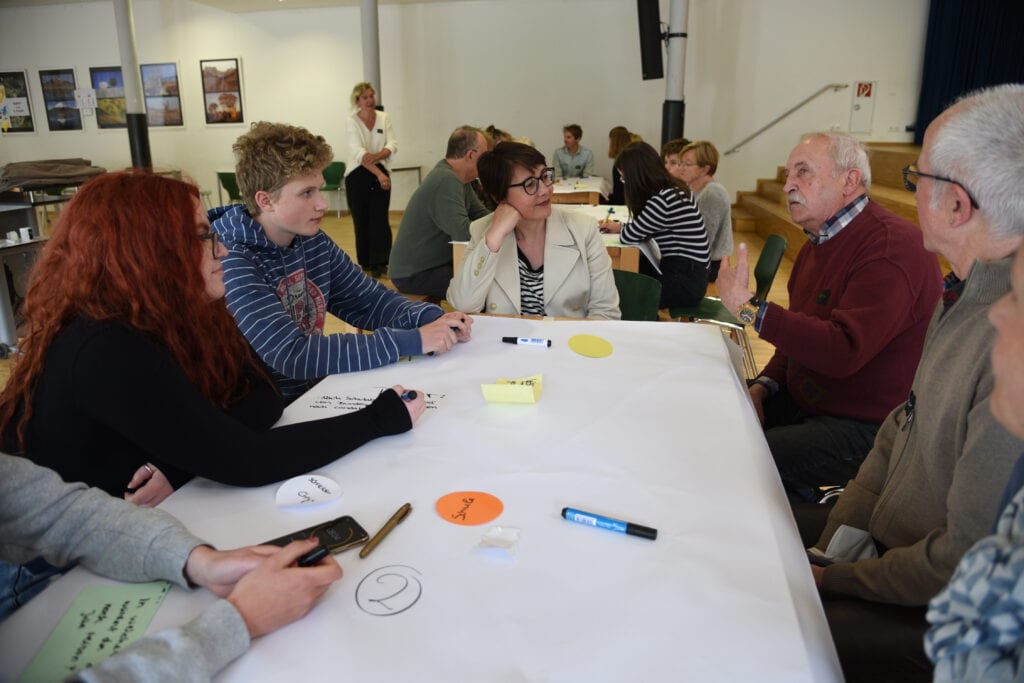 LOCATIONS IN BAVARIA
The Table of Generations is to be expanded as a dialogue format throughout Bavaria and in many other places.
The start could be in the following places:
2023
Augsburg, Schwaben
Oettingen, Schwaben
München, Oberbayern
Wasserburg am Inn, Oberbayern
Eichstätt oder Beilngries, Oberbayern
Bamberg, Oberfranken
Berching, Oberpfalz
Abendberg, Mittelfranken
Passau, Niederbayern
Aschaffenburg, Unterfranken
An den neuen Standorten werden wir Schulungen für die Moderation ambieten und  mit einem Methodenhandbuch die Umestzung begleitet. Dazu soll es  ein Coaching der Jugendlichen und Moderator*innen geben
TEAM
Project idea and management: Wolfgang Hauck
Project coordination: Anke Neudel
Project partners: Participants from the organizations of the project partners
PRESS ARTICLE
Article about the first execution of the format 2021:
09.12.2021 Schondorf Blog: Tisch der Generationen
11.12.2021 Aloys.News: Überraschung am Tisch der Generationen 
12.11.2021 Post: Facebook
COOPERATION PARTNER
Bavarian Adult Education Association e. V.
Brücken bauen e. V.
State Association for Cultural Education e. V.
Bavarian Youth Ring K.d.ö.R.
further partners are to follow
FUNDING
Follow
STATUS 
Correct to 24.10.2022
Photo: Conny Kurz